What are the odds of an American Muscle car lover who is also an electric car lover? That would constitutes too a tiny population in the U.S. of which you will probably find them in Texas where Mitch Medford's Bloodshed Motors does the business of converting classic cars into octane-charged high-speed electric machines that will give most supercars a run for their money and without the harmful emission. Leading by example, Mitch has converted a 68' Mustang into a monster vehicle, which he calls Zombie 222, producing over 800 ponies and a mind-blowing 1,800 lb-ft of torque (2,438 Nm!). That's an insane abundance of torque that we are surprised that the car isn't all twisted out of shape yet. And the performance is nothing short of remarkable; Zombie 222 rockets from zero to sixty miles an hour (96 kph) in mere 2.4 seconds and makes a sub-eleven seconds quarter-mile, coming in at 10.7 seconds at 125 mph (201 kph).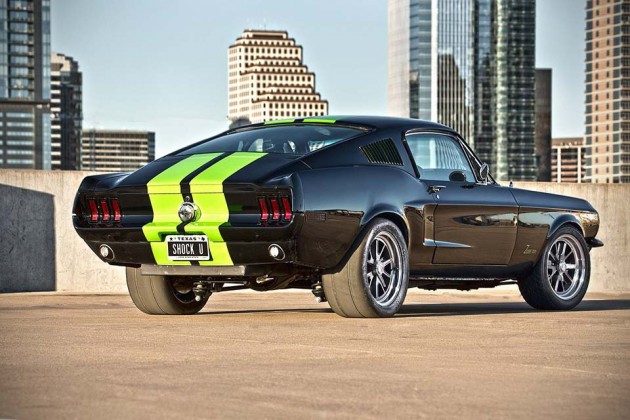 We doubt Ford will be taking on such a project like Mitch did, even if they do, they won't be turning a classic pony into an electric monster. So if you are in and around Texas, or any other parts of the U.S., Bloodshed Motors could just be your answer to a beefy, silent beast. And oh, Bloodshed Motors don't do late models muscle car conversion; they only have eyes for vintage stuff. So, take note. Other interesting facts about this vehicle, asides from the strangely alluring green accented black paint job, include lithium polymer Prismatic Pouch High Tech Systems racing battery, a range of between 40 and 140 miles – depending on pack selection, Bilstein coilover front suspension, SOT floating 3-link rear with Watts bar, Strange PRF180 aluminum HD section, Flaming River rack and pinion steering, 13-inch Brembo disc brakes all-round, and an interior by Mustangs to Fear and Corbeau. And oh, did we mention that, despite the twin 11-inch drivetrain and batteries, it weighs in at 3,300 pounds (1,500 kg), which is about roughly the same as a full-optioned 390 68' Mustang?
So, how much to turn a lovely classic into one such electrifying ride? Well, according to The Verge's video (which you can find below), Mitch admits that the conversion won't be cheap, neither will be the car, and by that he conceded that he is knowingly limiting the segment of the market to "the guys who go to the big options to write checks for six figures bill." That said, if you want one, you're looking at nothing less than $200,000. However, apparently, Mitch and his team is not in the hurry to pull in business – at the moment, he is all out to prove that this car is insane.