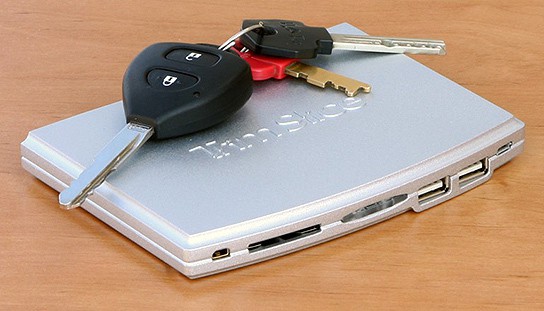 (image credit: CompuLab/Trim-Slice) CompuLab Trim-Slice miniature PC | US$tbc | www.trimslice.com
being a computer enthusiast who have been building my own PC, i have never imagined PC could get this small. as you can witness from the image above, this miniature PC from Israel firm, CompuLab, is not bigger than a bunch keys. no kidding. dubbed the Trim-Slice, this nViDia Tegra 2 processing platform PC is touted to provide rich multimedia capabilities and user experience of a full-size PC but drawing a fraction of the power of the full-size PC counterpart.
at a glance, the Trim-Slice might be easily be mistaken for an USB hub. measuring a petite 130 x 95 x 15-mm, the fanless Trim-Slice is not lacking in features and power. housed in this nickel-plated metal enclosure is a 1GHz Dual Core ARM Cortex A9 processor with an ultra-low power HD GeForce graphics within. other specs include 1 GB DD2 RAM, a 64-GB Solid State Drive (SSD) and micro-SD and SD card slots.
connectivity includes USB 2.0 ports, an USB device port, a serial port, HDMI-out, dual head DVI, Gigabit Ethernet and 802.11n wireless connectivity. aside form the standard line-in and audio-out jacks, it also spots a S/PDIF out for 5.1 channel digital audio output. as for the operating system, nothing has been announced at this point.
Trim-Slice is slated for release in April, but no words on its retail price as yet. on the aesthetic front, we certainly don't expect much from a PC this small. at this rate of PC miniaturizing, i suspect we will soon hear this: "Mum, have you seen my PC?"
via Gizmag