(images credit: Bloodhound SSC/BBC News/Cosworth/Flow Images/Curventa/Siemens)
the British Bloodhound project is determined to beat the World Land Speed Record set by the Thrust SuperSonic Car in 1997 by a cool 237 mph. it has set it sight on achieving an nerve breaking 1,000 mph (1,600 km/h) land speed in late 2012 at the dried out lake bed in Hakskeen Pan in the Northern Cape of South Africa. the project started three years ago is finally going into the construction phase.
[ad#Google Adsense-text-468×60]
to be powered by a Eurofighter Typhoon jet engine, courtesy of the Royal Air Force, bolted above a Falcon hybrid rocket system, which is the biggest hybrid booster ever manufactured in the UK. the project has drawn several big names from different industries including aerospace specialists Hampson Industries, Advanced Composites Group, Lockheed Martin and the legendary Cosworth group, who supplied a Formula One engine to pump the oxidizer through the motor.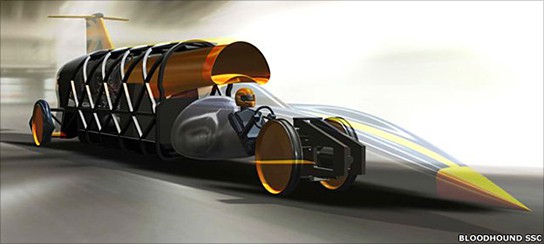 (images credit: Bloodhound SSC)
incidentally, the would be pilot of this future British's World's Fastest Car is Wing Commander Andy Green who was the driver behind the 1997 Thrust SuperSonic Car. notice we called him 'pilot' cos' we reckon, at that supersonic speed, it is as good as flying. two other people who worked on the Thrust project are also involved in the Bloodhound project.
when asked what's the objective of the Bloodhound's bid to break the record, Wing Commander Andy Green said it is more than just the record but it is a platform to inspire children to be involved in the subject of science, technology, engineering and math which is apparently lacking in the UK today. accordingly to BBC, some 4,000 schools in UK are already involved in the Bloodhound Education Program.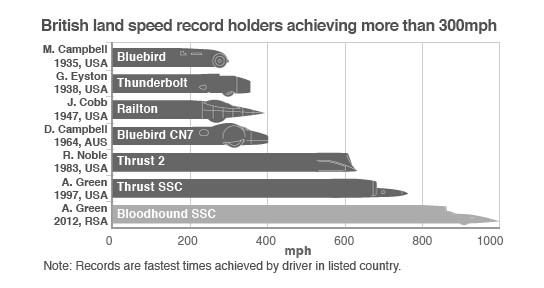 prior to the historic day, the Bloodhood will undergo 'low speed' runs on a UK runway sometime in the first half of 2012. the Bloodhound is a private, non-profit venture. well, it's definitely an exciting news for tech aficionados like me but it might sound meaningless to some but whatever it is, we wish the Bloodhound team success. it has been a while since the world last see an exciting land speed record. perhaps, 2012 will be a year where the British will a new record.