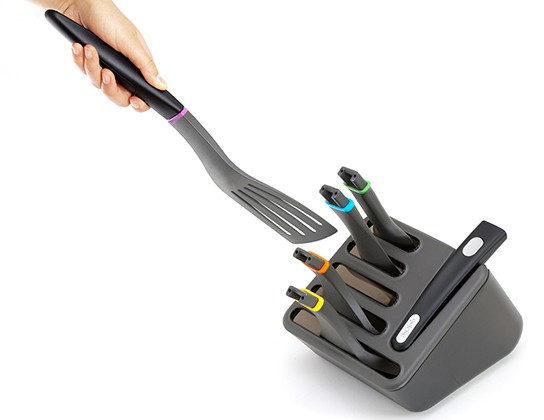 (image credit: Quirky/Click n Cook) Quirky Click n Cook Modular Spatula System | US$39.99 | www.quirky.com
remember what we said about simple inventions that makes our life easier? well, here's an ingenious invention that does just that. introducing the Quirky Click n Cook Modular Spatula System, a spatula system that has just one handle but five different spatula head attachments. need to stir the pasta? switch to the slotted spoon attachment. need to flip a burger? pop out the slotted spoon attachment and click on the extra-wide slotted spatula to do the job. need i say more? it's simply awesome.
all parts of the Click n Cook Modular Spatula are made of food-safe plastic and of course, they are dishwasher-safe too. the Click n Cook Modular Spatula system comes with five detachable spatula heads, an ergonomic handle and a compact, two-part stainless steel block. invented by Fred Ende, created through Quirky, Inc's brand of social product development and input from a community of thousands, Click n Cook is the new-age multi-functional cooking utensil. we are glad that this wonderful product made it to production and is now available via Quirky web store for $39.99. i gotta have one of this.