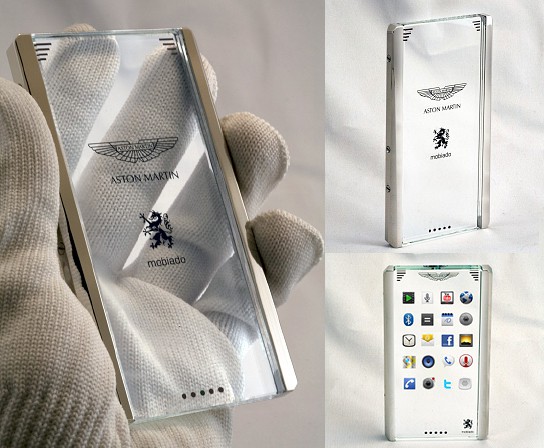 (credit: Mobiado) Mobiado CPT002 Aston Martin Concept Phone | US$tbc(concept) | www.mobiado.com
during last week's BASELWORLD 2011, Mobiado announced an exciting concept phone in collaboration with supercar maker Aston Martin, dubbed the CPT002. the CTP002 is not just a phone, it is also the key to your Aston Martin where it will automatically unlock the door as you approach the car. while in the car, the phone stays connected via your car display, so your phone can remain in your pocket.
combining with the car's GPS, the CTP002 aims to provide a whole new level of social networking experience. for example, the car display will show your current location, your friends' location and nearby venues via the social network, Foursquare. these information will help user to better plan a night out, right down to where to park their precious vehicle. i guess, for a car like Aston Martin, valet parking will be the preferred form of parking – so that you can do your throw the key to the valet thing or wait, you won't have a key!
the integrated cameras (yes, despite its transparency it will have cameras) is able to set to update your status periodically to Facebook and Twitter with images, videos and information of landmarks along your road trips in real time. or perhaps, updates on your racing progress during one of those track days. in the event of an unfortunate accident, the airbag system of your vehicle will receive accelerometer information from the phone. these information allows a more responsive control over safety deployments such as airbag sequence, timing and seatbelt stiffening.
the CTP002 design embodies the essence of what most of us have perceived about the future of communication devices: the center piece of the CTP002 is a solid sapphire crystal, see-through capacitive touchscreen while the sides are crafted from platinum where it will house the battery, electronics and SIM card.
Mobiado via LuxuryLaunches