We have seen many spectacular PC case mods, but sometimes the one that takes the cake is the good'ol 'ugly' beige colored cases from the 90s. One modder Imgur user by the handle of Dr Moddnstine did exactly that. He was gutted and replaced an original IBM Aptiva from 1995 with today's hardware, including an Intel Core i7-6700K 4.0GHz quadcore processor on a ASUS Maximus VIII Gene micro ATX motherboard, along with Corsair H80i 77.0 CFM liquid CPU cooler, Corsair Vengeance LPX 16GB RAM, Samsung 850 EVO Series 250GB 2.5" SSD, ASUS Radeon R9 390 8GB graphics, and Corsair RM 750W ATX power supply.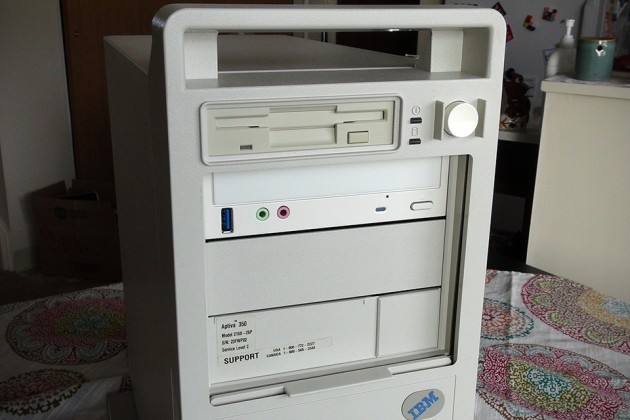 The result is clutter-free tower that looks surprisingly refreshing. However, the real feature that draws us to Dr Moddnstine's creation isn't the retro case (I have always like Aptiva, btw), but it is the floppy disk drive. Instead of ditching it for a multi-card reader like most people would, he chose to retain the 'classic' drive and turn it into a 128GB floppy drive using an old SD card and a floppy disk reader. He adapted the 3.5-inch floppy disk to hold the SD card that will have its contacts expose when the metal shutter opens inside the drive. This allows the modified floppy drive's contacts, which now has the SD card reader, to read/write on the new old floppy disk.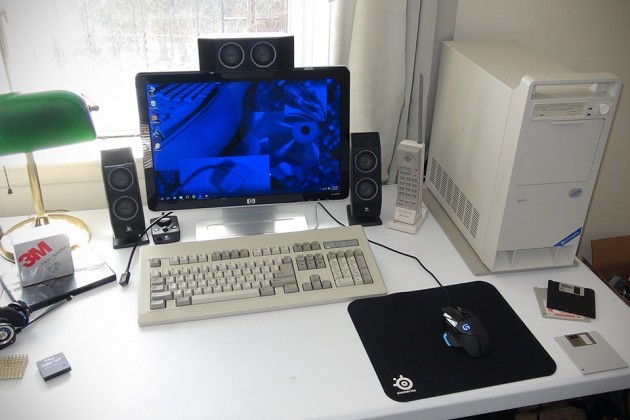 Finally, a USB 3.0 adapter is thrown in to ensure it has the modern day transfer speeds. As the video below demonstrated, the drive works as it should and unlike the old data storage technology, the access is instantaneous and without the squeaking noise the floppy makes when being read/written on. Like I have said, Aptiva's chassis has always been one of my favorite PC case even until today and the fact that Dr Moddnstine has retained the 3.5-inch floppy drive really brings out the magic of this case mod. For that, we will give him countless thumbs up.
via Digital Trends