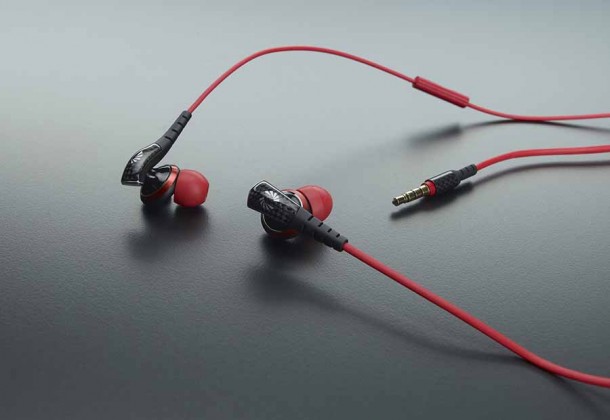 Phiaton Moderna and Bridge Headphones | from US$150.00 | www.phiaton.com
when it comes to personal music gears, we thought they must look as good as it sounds. yes, we know. we said it a thousand times and we are not about to stop saying it. unfortunately, a pair of buds or cans that promise to have a sound to match its look or vice versa and yet won't burn a hole in your wallet is hard to come by. this newly announced duo, the Moderna earphones and Bridge headphones from Phiaton Corporation might just be the rare few that fits the looks good, sounds good criteria, while not ripping a huge chunk out of your savings. the Moderna's real carbon graphite body with contrasting red ear buds and red oval-shaped tangle-free cable addresses the aesthetic department, and the comfort aspect is taken care by its unique "half-in-ear" design that sits snugly outside the user's ear canal.
on the performance aspect, a multi-tune acoustic design with a dual-chamber and five tuning points combines to offer crystal clear sound, rich detail and clean, powerful bass, while a double-shelled body design aids in containing sound and minimizes reverberation. an inline microphone gives you hands-free communication while on the go. the Bridge, on the other hand, is an over-the-ear headphone. this beautiful pair of cans features genuine perforated leather matched with machined aluminum, contrasted by flaming red tangle-free cloth wrapped cables that, by no accident, also features an in-line microphone for making and receiving phone calls. it has a foldable design for ease of storage and transportation, and a dual-chamber structure and multi-tune acoustic design ensures you will be hearing only the best sounds.
the Phiaton Moderna earphones will be hitting the stores this August with a sticker of $150 and the Phiaton Bridge headphone is slated to be available in November 2012 for a price yet to be determined.