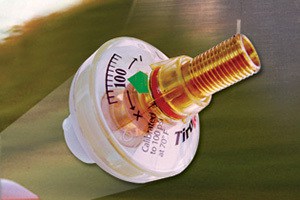 (photo source: tirogage.indedev.net)
for the truckers out there, how many times have you forgotten to check your tires pressure and ended with flats in the middle of a highway? until you have self-inflating tires on your trucks, keeping the tires pressure in check is essential. besides it's a good habit to keep the pressure in check, cos' the right pressure gives you optimum mileage. though i am not a trucker myself, i would think it is a hassle to pop by a gas station to do the check or even, whipping out a portable gauge to do the job. now this particular gadget makes this chores a little bit easier. affixed directly air valves, the tirogage lets driver check the air pressure at a glance and getting in/out the air is via the tirogage as well. pretty new. it would be lovely if i can use these on cars.
visit TiroGage website.