Forty-three. That's how many years since the world last seen an actual Shelby GT350 Mustang, but today, marks the return of this legend, the all-new Ford Shelby GT350 Mustang, which aims to maintain the same focus as it have always had: a thoroughbred American muscle car that can take on both the tracks and the roads. Under the hood is a high-revving flat-plane crankshaft 5.2-liter V8 engine which the Blue Oval marque said produces "more than 500 horsepower" and churns out over 400 lb-ft of torque, thus making it the most powerful naturally aspirated Ford production engine to date. As far as the motor is concerned, the star of the show is clearly the flat-plane crankshaft, usually found in race cars or some exotic European sports cars.
So what the heck is a flat-plane crankshaft? Well, it is almost as what its name implies: instead of having the connecting rods (aka cod rods) attached to the crankshaft at 90-degree, it has the crank pins evenly spaced at 180-degree. In this way, it allows a firing order that cycles between cylinder banks, thereby minimizing the overlap of exhaust pressure pulses. That, when combined with enhancements in cylinder head and valvetrain, allows for better cylinder performance. Another exciting inclusion is the continuously controlled MagneRide dampers that allows near-instant adjustment of the suspension according to the road conditions as feedback by each wheel.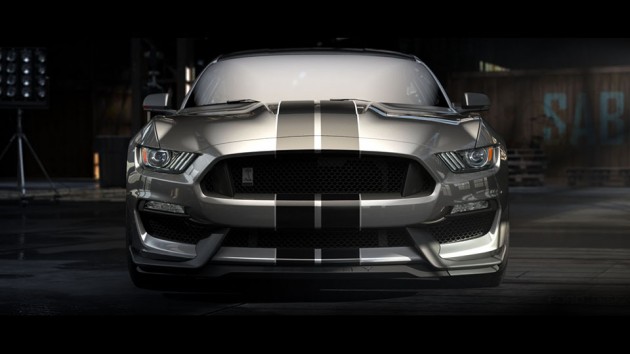 Other highlights expected include a lightweight six-speed manual transmission, Ford-tuned Torsen limited-slip differential, massive brake rotors paired with Brembo fixed calipers, fine-tune aerodynamics, increased front track, extra-stiff 19-inch aluminum alloy wheels wrapped in Michelin Pilot Super Sport tires, and "an interior optimized for driving" with stuff like specially designed Recaro sport seats with unique fabric, flat-bottom steering wheel, all-new integrated driver control system, plus a host of creature comfort upgrades. The Shelby GT350 Mustang is the latest to join the new line of Mustang, but though so, words on the pricing and availability are yet to be announced.