However feminine some smartwatches are, they're still generally geared towards men. And so, for ladies who don't fancy smartwatches, tech giant Intel and international retailer Opening Ceremony has an alternative wrist-worn wearable tech that basically does what a smartwatch does, but in a bracelet form. Called My Intelligent Communication Accessory or MICA, this smart bracelet is designed by Opening Ceremony and engineered by Intel, and aims to keep fashion-forward ladies connected by putting smartwatch functionality like texts, notifications, and even local business recommendations powered by Yelp and TomTom, right on ladies' wrists. And kudos to Opening Ceremony, MICA looks nothing like a wearable tech; it totally elevates the aesthetic and alters the perception of how a wearable device should look like.
In addition to the usual smartwatch functionality, MICA also doubles as your trusty personal concierge. Well, it is not that kind of concierge like Vertu's, but it is an intelligent reminder service known as "Time to Go" powered by TomTom that will dynamically adjust based on your location to compute the time you required to get to your next appointment. In this way, you can better manage your schedule and not end up late because of geographical distances as you move through the day. Yelp is also built into it to facilitate local searches for stuff like places to eat, shops and more. The watch, I mean the bracelet, also allow you to curate a VIP contact list so you'd be getting the notifications and texts that matters to you and not being overwhelmed by all the nitty gritty stuff of less importance. There is, of course, vibration alert to discreetly keep you notified.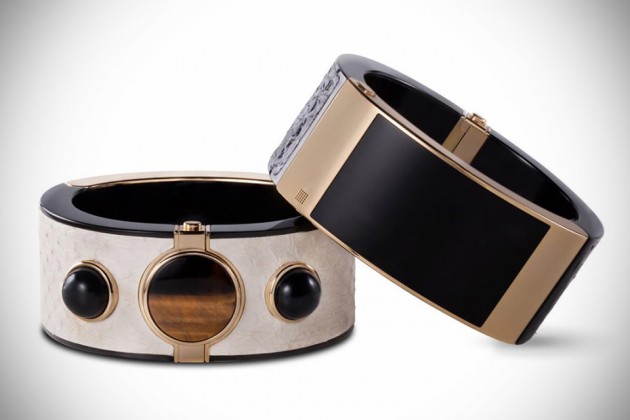 At a glance, the My Intelligent Communication Accessory looks just like another luxurious fashion accessory, which is a good thing for those who fear a tech piece would break their fashion statement. It is offered in premium finishes and 18K gold coating, while a curved sapphire glass touchscreen display blends seamlessly into the circular jewelry and befitting its jewelry status, it is offered in a variety style to suit individual tastes. Intel x Opening Ceremony My Intelligent Communication Accessory will be available early December for $495, exclusively in the U.S. at Opening Ceremony New York and Los Angeles, select Barneys New York locations, as well as Opening Ceremony and Barneys online stores. The price includes a two-year AT&T wireless service plan by Intel.