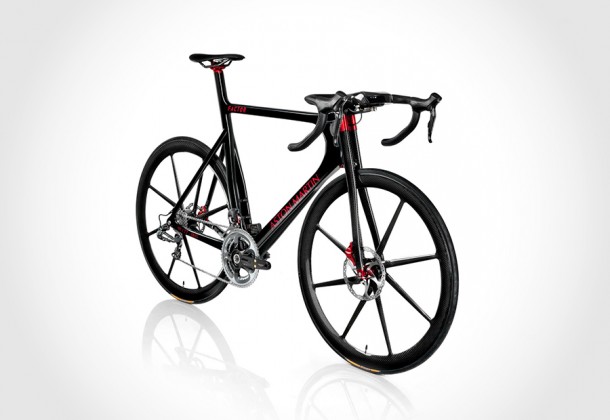 Aston Martin One-77 Cycle | about £25,000.00 | www.factorbikes.com
a bicycle is something that you expect little or no technology to be devoted to. i mean, what else do expect except to pedal and let it help you get to where you want to go? however, that's not what the Aston Martin One-77 Cycle by Factor Bikes is about. in fact, it is the opposite. besides looking as sexy as a bicycle can get, it is one two-wheeled pedal-powered bike that is laden with technology. first off, it has a bike computer built into it that employs an array of sensors such as GPS, a rear wheel speed sensor and a crank position sensor, to provide the rider with data that goes beyond just speed and distance. what you will get is more than 100 specific measurements, including the crank torque, your leg power and crank force – all which are further broken down into the left and right legs.
other data expected include acceleration, wasted leg power (!), rate of ascent, as well as rear wheel speed. just hope that with those data that you are harvesting, they won't make you feel like a lab rat. well, you know. i am just saying. apart from its laboratory like features, the bike is one hell of a looker – thanks to the heavy use of the ever alluring carbon fiber on its frame, fork and handlebars, which kept its weight down. the attention to detail continues to the bicycle's integrated lighting system that includes a high-intensity front LED and a futuristic rear LEDs in red. no official sticker has been announced but the Aston Martin One-77 Cycle is said to cost around £25,000 (about US$39,000). however, only 77 of such pricey example will be made available, presumably through Factor. join us for a gallery after the break.