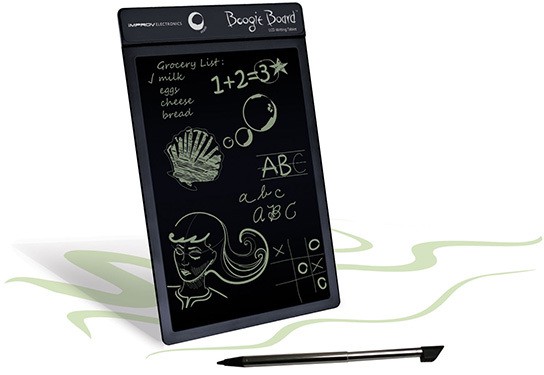 (image credit: iMPROV Electronics) Boogie Board Paperless LCD Writing Tablet | from US$39.95 | www.myboogieboard.com
looks like the trees can breathe a sigh of relieve cos' going paperless could very be a reality very soon. the Boogie Board Paperless LCD Writing Tablet is the emerging alternative to the traditional pen and paper writing combo. however, do not mistaken it as an e-ink or even a mobile computing tablet, it is in fact, an e-paper using plastic Reflex LCD for its writing surface which you can write and draw just like you would with the traditional pen and paper, and it erases at a touch of the button, thus it is goodbye to eraser and liquid paper.
[ad#Google Adsense-text-468×60]
the device comes with a built-in non-replaceable lithium coin cell battery which is capable of lasting the length of the product life which boost over 50,000 times of reusability. in fact, the device consumes no energy when writing or drawing and only a tiny amount of power is used when erasing. the plastic LCD is coated with a special polymer hardcoat which prevent scratches, however, hard objects like pen knife or pins would almost definitely damage the LCD. my favorite feature would be the pressure-sensitive LCD which means the writing surface creates lines of varying thickness depending on how hard the user push the stylus on it. excellent for any quick doodles.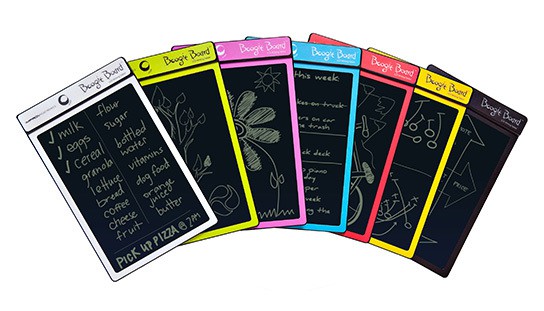 the device comes with a telescoping stylus but user can also choose to use other instruments to write on the tablet, including plastic compass, pen cap, stiff artist brush, fingernail and even make patterns on its writing surface using cookie pattern cutter. constructed out of durable plastic materials, the clipboard-like device measures 8.8 x 5.6 x 0.2 inches (224 x 142 x 5 mm), which is a tad smaller than an A5 size paper and weighs in at just 4.2 ounces (119 grams).
e-paper is still at its infancy, speaking of which, the Boogie Board does has its drawbacks. there's no partial erasing function, which means a push of the erase button will erases everything that's been written or drawn on the LCD. there is no save function present or any form of connectivity, therefore you will not be able to save or export your jotted notes or sketched ideas. with these two drawbacks in mind, i would think the best use for such a device would be to stick it to a fridge for jotting down reminders for housemates or family members, or any other notes taking sessions where saving is not required. i would be less incline to use it to doodle my ideas knowing i can't export any of it.
the Boogie Board comes in a total of seven colors, with black being the default color. it retails for $39.95 for the standard black edition and $41.95 for other colors. the tablet is available now for purchase at major online stores.