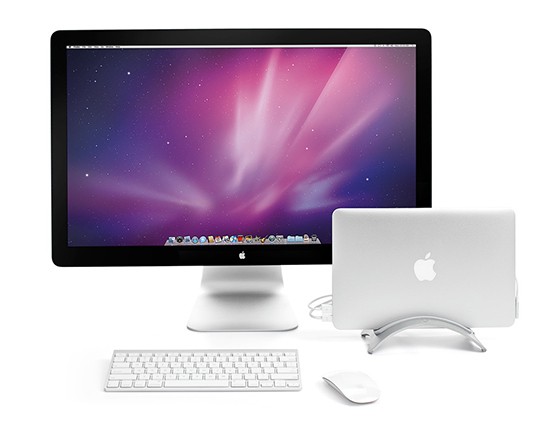 (image credit: Twelve South) Twelve South BookArc for Air | US$39.99 | www.twelvesouth.com
if you're using your MacBook Air with an external display like the Apple Cinema Display, then the new BookArc for MacBook Air from Twelve South is the perfect companion accessory. the BookArch for Air functions and look much like the original BookArc for MacBook but is designed exclusively for the new MacBook Air (late 2010). the BookArch holds up your MacBook horizontally upright while your MBA is connected to the external display, giving you a neat and clutter-free workspace.
[ad#Google Adsense-text-468×60]
the BookArc for Air differs slightly from the BookArc for MacBook with the incorporation of a built-in cable management (as seen on the BookArc for iPad). unlike the MacBook, MBA has ports on both sides which the cable manager helps to route the power, external monitor, headphones and any other cords behind the back of the MBA. the cable manager holds the cables in place even after you remove your MBA which eliminates the cables falling everywhere scenario. having used the BookArc for MacBook before, i must say it works and the sturdy heavy gauge steel complements the aluminum Mac perfectly. though i must emphasize that the original BookArc does not have the cable manager.
like the original BookArc, the BookArc for Air features a soft cushion insert that firmly grips the Mac and silicon foot pads on the bottom. when placed in the arc, the Macbook's opening faces up which is a gorgeous sight but if the Mac's magnetic closure isn't working as well, you will be seeing a gapping Mac. how do i know? i had that experience and it kind of tarnished the overall look. nevertheless, i would say this is a must have for any MBA owner using an external display. trust me, they look as good as what's being pictured.
the BookArc for Air costs $39.99 and will start shipping sometime this month.