Unless you are making a lot of money from YouTube, making contents for will likely be a one-person show. This means, you are the host/star, the editor, the director, and the cameraman. Thankfully, there is a thing called Follow by Edgee that will fill in the last role.
That's one less role for you to take on when you are creating contents. The best part? It is a standalone device that requires no app to work. Today, we are going to take a look at this tool to see if it delivers.
The Design
Follow by Edgee is designed to go with your contemporary setup. There's no question about aesthetic. To simply put it, it pleasing to the eyes. Like, what more can I say? It looks nice just sitting there. If you ever wanted a good-looking camera person, well, there you have it.
There are three parts to Follow by Edgee. The main part is the base which has a lone button with a classy branding on it, an LED status light next to it, a slightly angled sensor to detect your presence, and a T-slot for a phone or camera mount on the top.
Around the bottom, there is a 1/4-inch thread that allows it be mounted onto a tripod. The latter is basically a 1/4-inch threaded hole.
The fixed base further features thin rubber feet to ensure that it does not slide around on smooth surfaces. The second part is an adjustable adapter, aka cold shoe threaded mount, that would enable you to fit the included camera or phone mount.
The adapter has a T-slot that slides into the base's T-slot and there are two thumbscrews; one for securing it in place on the base and another for tightening the camera or camera mount
That brings us to the third part of the package: a camera and a phone mount. The former is metal build ball socket mount. The latter is a regular phone mount.
The back of the base unit is a USB-C port for charging/powering the unit and a USB-A port which can be used to power your phone or other device, such as the optional ring light.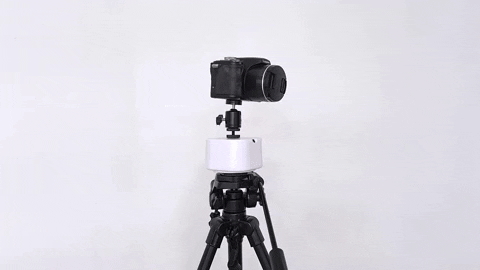 The Build
It is no secret I am obsessed with build. That's the first thing I look at when I review anything. This thing is solidly built, or at least it is as far as I can see on the outside. The exterior of the main unit is made of the plastic and so is the fixed based. And yes, I shook it lightly to check if anything's loose and I am glad to report that it came out negative.
The Features
According to Edgee, the based can handle up to 7 lbs (3.2 kilograms). I am not about to put it under extreme duress and as such, I am going take its words for it. As for features, well, it follows. TBH, I was skeptical it will even work, but the device proved me wrong. It is kind of magical (or creepy?) that a little like the Follow by Edgee can actually follow me as I move around.
The device and the included adapter, allows it to be used with an LED ring light. All you have to is to attach the ring light to the Follow and then attach the phone mount to the cold shoe on the ring light. You can also use the ball socket to attach a camera or use the ball socket attachment with the phone mount for even more angle adjustments for your phone.
The Operation
Setting up only requires you to slide and secure the adapter with the phone mount to the Follow unit and then power it up, and voila!, you are all set. There's no app to fiddle with. Neither do you need to pair it to Bluetooth. You can literally get it going in minutes. The tracking is completely automatic with no settings or whatsoever.
This is a gadget that truly shares Jobs' era Apple ethos of 'it just works'. To start using it, just get in front of the Follow and let the sensor recognize you. When the sensor picks up a face, the status light will turn green. From there on, it will track you as you move.
In case you are getting the optional ring light, you want to know it has three color temperatures and it is dimmable.
The Limitations
Follow is capable of tracking anywhere from 10 cm to 5 meters (4″ to 16′). But the closest I can get to it is about 20 cm (about 8 inches) and as for max distances it looses me at just a little under 4 feet (1.2 meters). One thing I notice is, the lighting plays an important part. It works best in bright environment (obviously). Any dimmer, it will lose you fairly quickly. I guess this where the ring light comes in.
And then there's the speed issue. Don't expect it to catch up with fast moving actions like running. It probably won't be able to catch up with you. However, I noticed that in the event that it did lose you, it can actually play catch up once it reacquires my face.
The Verdict
I thought it detects object. But I was wrong. It does face recognition. It won't recognize anything other than a person's face and there's pro and con to this. Pro is, it won't go rogue just because of, say for example, hand gestures. The con is, if actually walk around with your side to the device, it sometimes don't pick up your presence. This is where you will find it catching up when it detects the face as you turn back round.
As for my verdict… well, it works as advertised. I would say the pros include simplicity in operation (you can't get any easier, really), no app to mess around, no pairing required, easy setup and built-in battery. Tripod mountable is a bonus and so is the ability to work with both phones and cameras.
As for cons, I would sum it as: it could have moved faster. Also, the thumbscrews could do with a better design. Sometimes I have difficulty in undoing it with my gorilla-sized digits because of the screws' extreme low profile.
If you are keen in picking up Follow by Edgee after reading my take, you can find it selling on Getedgee.com for US$39.99. The optional ring light sells for US$10.99. That's little over US$50 for a camera person who does not force his/her creative ideas on you. I'd say it is a good deal.
Disclaimer: While the product is provided by the manufacturer, the review is completely unbiased and solely based on the reviewer's point of view.
All images by Mikeshouts.com.