I am sure we all remember Devon Works and its unique bulletproof durability lens and super cool tread-style time telling watch. So what about it? Well, they have out a limited edition timepiece that will sure to get many Star Wars fans going gaga, but of course, that's provide the fans happen to have pretty deep pockets, or else it would just be too painful for them to watch (get it, get it?). The Devon Works Star Wars Watch is the result of a collaboration between the L.A.-based design firm, Disney's Lucasfilm and the US aerospace industry, and features Devon's trademark tread-style time telling complication powered by the outfit's patented movement.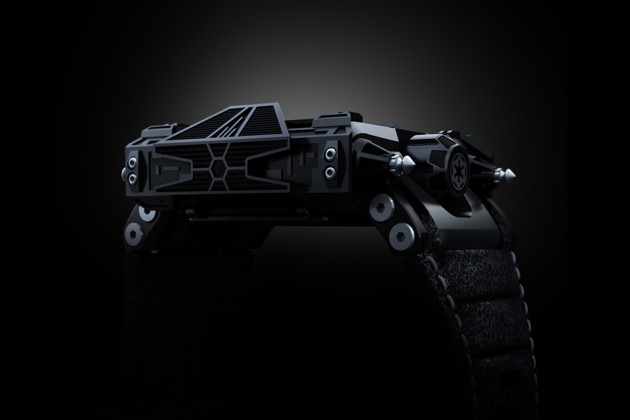 Aesthetically, it sports a few elements borrowed from the Dark Side, including a strap designed like the Dark Sith's gloves, accents that mimic his helmet and the TIE Fighter radiator wing, and a crown embossed with the Imperial crest. Other aspects of the watch includes 316L stainless steel construction with true black diamond-like coating, scratch-resistant polycarbonate lens "with bulletproof durability," four interwoven 2-micron thin nylon time belts, lubricant-free ruby bearings, four micro-step motors, multiple high-tech optical recognition cells, onboard microprocessor, lithium polymer rechargeable cell good for two weeks use per charge and wireless charging. All told, the watch culminates a total of no less than 350 parts.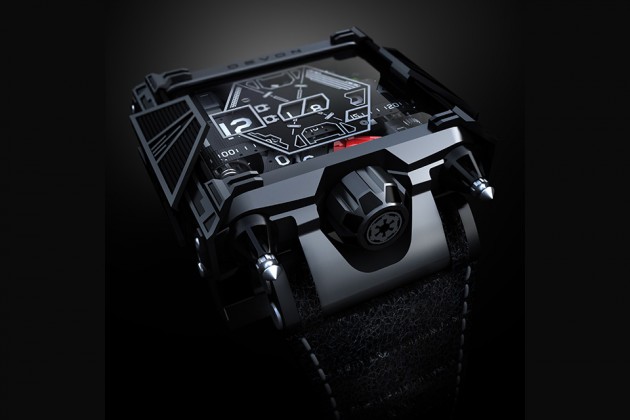 The watch has everything a Devon should have and the look and feel of Star Wars. Thank goodness it does not have a miniaturized superlaser, so it is perfectly safe for everyone who has $28,500 to spare. Completing this uber opulent sci-fi-themed timepiece is a pair of TIE Fighter cufflinks and a cool stand in the likeness of a TIE Fighter. Only 500 units are made and offered, but looking at the price and the particular targeted demographic, we are guessing this won't be flying off the shelf in "less than twelve parsecs." So look it up, a handful may still be available.