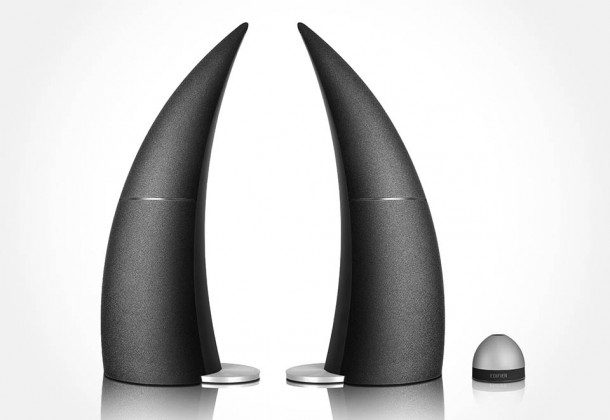 Edifier E30 Spinnaker | US$349.99 | www.edifier.us.com
those who are old enough will recall how boxy and yucky sound system looks back in those days. things have changed quite a bit since. we are no longer bound to monotonous black or silver boxes (though some still call them classic beauties but that's beside the point). in today's context, we demand both quality sound and beautiful aesthetics, and nothing less. if you are a connoisseur of stylish objects, then we suppose the new E30 Spinnaker 2.0/2.1 Bluetooth Stereo Speaker System might appeal to you. at the first glance, you will notice a design that you would normally find in high-end audiophile systems. this sail-like speakers stand 16.5 inches or about 42 centimeter tall and its unusual avant-garde shaped speakers not only stands out on its own but also serves as sound quality enhancements. for starter, the tapered cylindrical form prevents internal standing waves and resonances from accumulating within the enclosure.
additionally, its aluminum frame construction and internal damping materials combines to further minimize enclosure vibration. other features include the use of tri-amping technology for its front-facing tweeters, mid-range drivers and downward-firing bass driver, DSP with 6-channel electronic crossovers that eliminates phase shifts and freeing up valuable internal space for a deeper bass effect, Bluetooth-enabled with a range of up to 10 meters or 30 feet, optical input suitable for your modern home entertainment components, auxiliary input caters to non-Bluetooth and optical devices, and last but not least, a USB rechargeable, multifunctional wireless remote wraps up this beautiful, contemporary speaker system. the E30 Spinnaker 2.0/2.1 Bluetooth Stereo Speaker System comes in either black or burgundy and will set you back at $349.99 a set. check out a few more images available after the break.