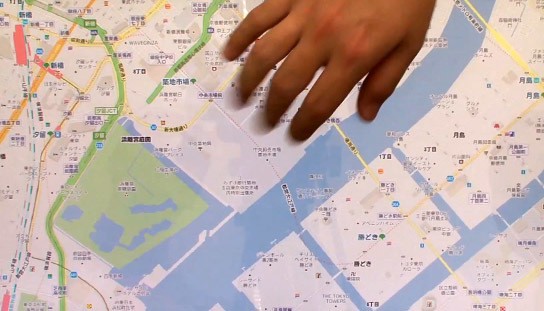 (credit: screenshot from Witness video)
flex interface does not refers to the physical hardware but it's more like the interface technology (i.e. software). hence, i reiterate, it has nothing to do with any hardware. in the recent Interaction 2011, Osaka University demoed an innovative interface that will 'flex' when scrolled. normally, when we scroll through Google Maps, part of the original content will be out of sight, making way for new content. however, that's not the case for flex interface which treats the content as a flexible object. when scrolling, part of the content that would otherwise 'disappear' are distorted but still remain visible on the display.
if you are a frequent user of Google Maps, you will likely to appreciate this technology. for example, you may want to take a peek at the area beyond the display's visible area to determine if that's the location or area that you are looking for. in this aspect, traditional scrolling would requires you to scroll to that portion while the original screen got hidden away. however, with the flex interface, you can now peek around the map while still able to see the part of the map that were originally on the screen. while it may seems like nothing much, but it will save us the hassle of scrolling back and forth the map.
check out the video clip for a short intro and demo by one of the team member.
via DigiInfo TV