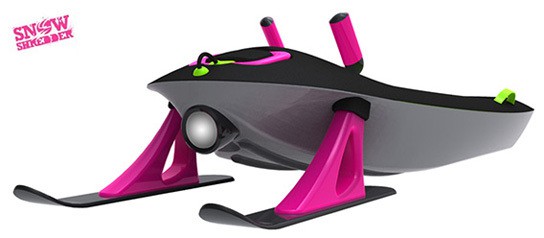 (photo source: quirky.com)
i got to give this a big star for it's design. the design of the Snow Shredder is really cool and resembles a Snow Ski, but this works only on a slope. get ready to rock the slope this coming winter and slide in style. want to shred the snow slope at night? not to worry, the Snow Shredder comes with a working headlight with an easy on/off button to make sure fun is not missed at night. obviously, the designer of this Snow Shredder knows you want to be in control, so it comes with a steerable wheel with adjustable heights up front for control your slide down slope. this should make control freaks happy. looks like adjustable steering is not just for automobile. the Snow Shredder fits 2 kids, aged 6 and up and as an added security, the kid behind gets to hold on to the handles if the ride becomes to rough. finally, a retractable hand up front enables easy towing of your slide up the slope for your next slide down slope. i love to have one of this but unfortunately, there's no snow in this part of the world.
check it out @ Quirky website.