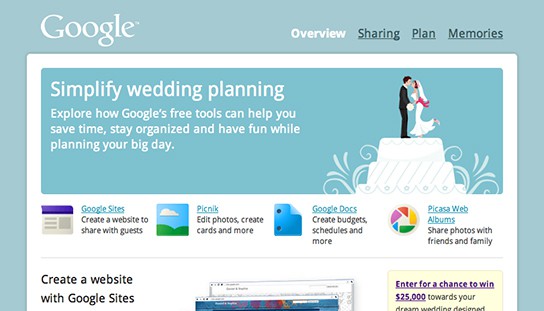 (credit: screenshot by mike)
it seems like there's nothing the search engine giant won't dabble in. Google has recently launched Google for Weddings which promised to "simplify wedding planning." if you are planning on taking the DIY route for your wedding, then Google plans to have you covered. so what actually can you do? well, you can do just about everything that relates to a present day wedding event – the Google way. wedding event at Googleplex is definitely not one of them.
there's no 'automagic' with Google for Wedding but rather, the site put together a list of Google products such as creating a wedding website through Google Sites, edit photos using Picnik and putting them up in Picasa and collaborate with the bridal party on guest lists. there is the Google Docs Wedding tools where soon-to-be-married couples can access to a suite of templates for planning a blissful wedding event. this includes wedding planner template, address book, guest list, seating chart, reception menu et cetera. there's even a budget planner that let you keep your finance in check. for those getting married this year, Google is giving you a chance to win a $25,000 sweepstakes and a free consultation with renowned celebrity wedding planner Michelle Rago.
aside from the aforementioned features, Google is touting lovebirds to use other Google products in preparation for their holy matrimony. products like Google Maps to create customized map for your traveling guests, boutiques.com to shop for your bridal needs, Google Calendar for your scheduling needs, among the many others. simplify wedding? sounds like a lot work to do to me. any chance of a Google Delegation? to task somebody else to carry out all this tasks on our behalf?
via LA Times