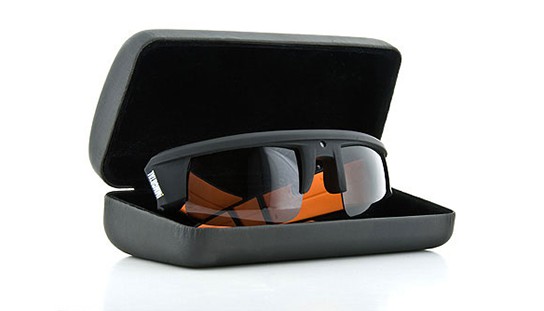 (image credit: Immortal UK) Immortal Video Sunglasses | £299.00 | www.immortal.co.uk
people tends to associate eyewear with video-capturing capability as a spy gadget but there is a more meaningful purpose other than espionage intends, like capturing your adventure in first person view during a ski trip. for this, you will need a pair of shades to shield your eyes from the glaring sun. this is where the Immortal Video Sunglasses comes in. it is a pair of sunglasses with a built-in 3-megapixels video camera located just above the nose bridge. this pair of sunnies has a 4 GB internal storage and is capable of capturing videos in 736 by 480 pixels resolution at a decent 25 frames per second (fps).
power comes in the form of 500-mAh internal battery which is good for two-hours of continuous recording. retailing at £299, this sunnies come packaged with three sets of interchangeable lenses to suit different light conditions. included lenses are polarized flame orange, polarized dark grey and clear. though it is aimed for those with a taste for adventure, it is not entirely waterproofed. therefore submerging it in liquid is a definite no-no. it is, however, splash-proof so it is still good for those ski-trips you been looking forward to.
looks pretty cool or at least, it doesn't spot a LED to announce that you are in fact capturing a video with your eyewear.