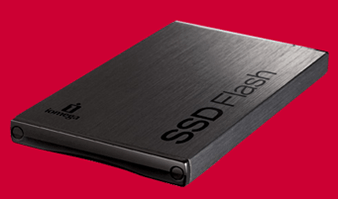 (photo source: iomega.com)
finally, SSD has come to external drive and in this instance, in the form of the iOmega SSD external flash drive. the iOmega SSD external flash drive comes with SuperSpeed USB3.0 connection. being a Solid State Drive or SSD, it has no moving parts unlike the conventional hard drives, which means faster application loading, faster transfer speed even with huge files and greater overall system responsiveness. coupled with the new USB 3.0 standard, transfer speed is up 10x faster than USB2.0. not to worry if you don't have USB3.0, cos' it is backward compatible with USB2.0 as well. this SSD flash drive has the iOmega Drop Guard™ Xtreme II that helps the drive survive drops up to 10 feet, not that we recommend you to drop your drive at that height. this USB-powered drive measures 4.35″ x 2.72″ x .37″ (L x W x H) and weighs only 0.24 lbs (approx. 108 grams), retail price starts from US$229.99 for the 64GB capacity drive. whoa… quite a hefty amount but we certainly hope prices will be more competitive once SSD flash drive becomes more common.
visit iOmega website.