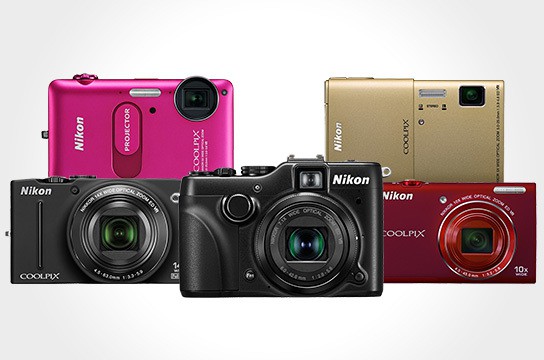 (image credit: Nikon) Nikon COOLPIX S1200pj (US$429.95) / S100 (US$299.95) / S6200 (US$229.95) / S8200 (US$329.95) / P7100 (US$499.95) | www.nikon.com
following the earlier announced Nikon COOLPIX AW100 series camera, Nikon has also announced a list of digital compact cameras which includes the S1200pj, S100, S6200, S8200, and the P7100. first in line is the COOLPIX S1200pj, a 14.1-megapixels camera that features a built-in projector for projecting photos and videos of up to 60-inches (diagonally) on any flat surface. the highlight is, of course, the projector which also allows it to project images, videos and web content from your iDevices. the S1200pj uses a CCD sensor and is blessed with 5x optical zoom. other features include HD 720p video recording with stereo sound, a 3.0-inch high resolution TFT-LCD display, EXPEED C2 image processing engine and image stabilization functions. the COOLPIX S1200pj is set to retail for $429.95 (MSRP).

[ad#Google Adsense-text-468×60]
next up is the COOLPIX S100, an ultra-slim (18.1-mm thin, to be exact) everyday digital camera. this chic camera that is equipped with a 16.1-megapixels CMOS sensor that's capable of full HD video recording and features 5x optical zoom NIKKOR ED glass lens, a high resolution 3.5-inch OLED touchscreen display and a host of input/output terminals such as USB interface, mini HDMI and AV output. like i have said, it's an everyday camera so there isn't much highlights to talk about. even the price tag speaks for itself: the COOLPIX S100 has a recommended retail price tag of $299.95. an affordable price point, i would say. the S100 comes in six different hues that include red, black, pink, gold, silver and purple.
the most affordable among the compacts announced recently is the COOLPIX S6200, which is yet another everyday camera that you can lug along whenever and wherever you go, not including public showers though. the S6200 features a 16.0-megapixels CCD sensor, HD 720p video recording with stereo sound, 10x optical zoom with NIKKOR ED glass lens and a large 2.7-inch TFT LCD display. the COOLPIX S6200 has a MSRP of just $225.95 and comes a variety of colors too.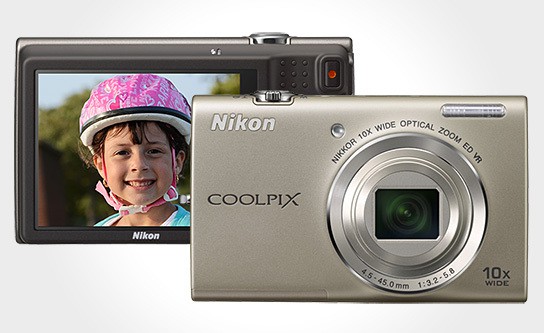 also under the S series is the COOLPIX S8200 digital compact camera that's equipped with a 16.1-megapixels CMOS sensor with backlight illumination for improved low-light photography. some of the features of this larger sibling of the S6200 include 14x optical zoom with NIKKOR ED glass lens, full HD video recording, built-in still and video special effects, new target finding AutoFocus function and a 3.0-inch "ultra-high" resolution (921k-dots) TFT-LCD display. the COOLPIX S8200 has a slightly pricer MSRP at $329.95.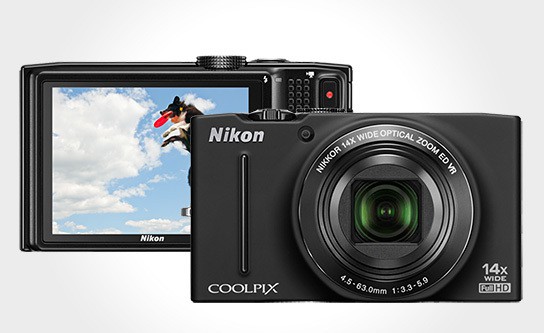 last but not least is the COOLPIX P7100, a prosumer camera with 10.1-megapixels CCD sensor. of course, it is intended to be a DSLR replacement but it could be handy camera alongside your main DSLR. the P7100 features 7.1x optical zoom with NIKKOR ED glass lens, an ultra-high resolution 3.0-inch (921k-dot) tilting TFT-LCD display, support for both RAW and JPEG simultaneous recording, HD 720p video recording and VR image stabilization. the existence of a optical viewer also hints that this isn't your everyday compact digital camera and the full range of controls further strengthens that notion. the Nikon COOLPIX is priced at $499.95 a pop.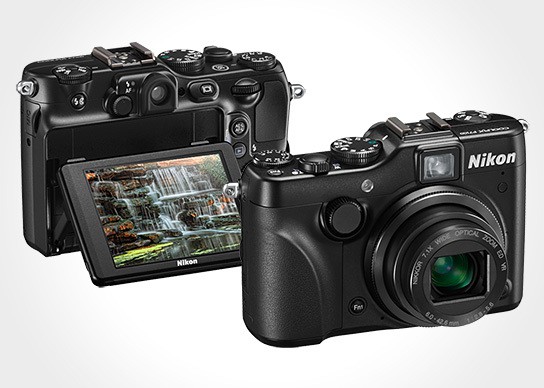 SOURCE: Nikon