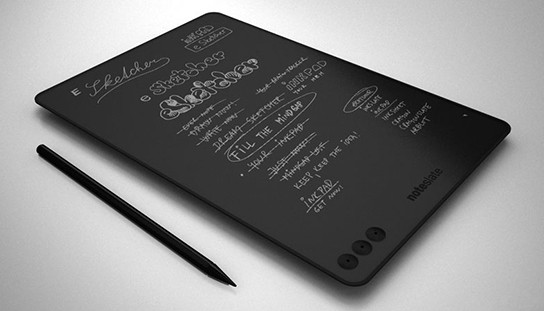 (image credit: NoteSlate) NoteSlate | US$99.00 | www.noteslate.com
just when i was all excited about the Boogie Board, i stumbled upon another e-paper device featured by Wired recently. this tablet or slate as the NoteSlate's name suggests, uses e-ink technology and comes with a pop-out stylus for writing on its huge 13-inch display. the NoteSlate is touted to be an "intuitively simple monochrome paper alike tablet device." the physical size of the device measures 210 x 310 x 6 mm which is slightly bigger in term of length as compared to the A4 size paper.
the NoteSlate boost a 750 x 1080 pixels resolution and has a few connectivity which includes mini USB, SD card slot, 3.5-mm jack and a power connector. without doubt, the NoteSlate aims to get us to loose the paper (and possibly, saving some trees along the way). there are three hardware buttons that let user delete the whole page, save the current page, or flip to the previous page. oddly, there's no mention of forwarding to the next page. unlike the Boogie Board, it allows localized or partial erasing using the pen. weighing in at 280 grams, the tablet has a built-in (i supposed, its rechargeable) battery that boost a lengthy 180-hours of usage.
the NoteSlate is set to retail at $99 and is to be launched in June 2011. the one-page official website has a few mock-up images of the product, which looks pretty good but i have always been a skeptic when a product has a one page web with no other information on who's behind the product or more technical specifications. which makes it appear to be a rather 'halfhearted' effort to promote the product. nevertheless, we certainly hope it will be a real-deal come this June.
via Wired