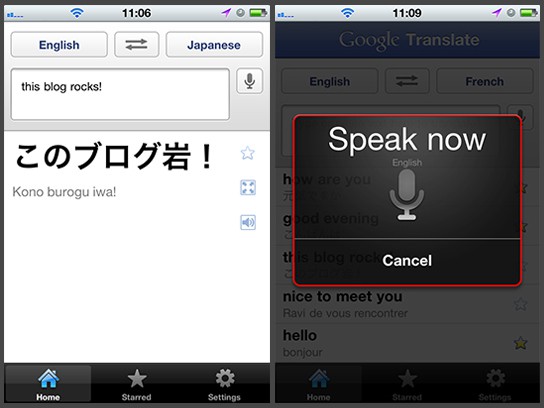 (credit: screenshots by mike) Google Translate App | US$free | on iTunes store
good news for travelers! Google Translate has finally come to iPhone. there are a host of translators out there but Google has some pretty neat features built into this app. the app is able to to translate words and phrases between 50 languages and besides the traditional onscreen keyboard input, users can speak into the app to do the translation as well. though the voice input is only limited to just 15 languages.
once a language is translated, users can choose to listen to the translated language. however, this reading aloud capability is restricted to just 23 languages for now. there's also a dictionary function where users can view the dictionary results for individual words, although i can't really figure out the real use of it. in case you are in a foreign land and need the other party to read what you wanted to say or ask, just hit the zoom icon or turn your iPhone horizontally to get a full screen display of the translated text, ensuring the other party has a clear picture of what you are trying to convey. miscommunication could a thing of the past, or at the very least, kept to the minimal.
Google Translate for iPhone also features a history log of the translations you have done which provide a quick reference of the previously translated text without the hassle of typing them all over again. in case you have a huge list of the history, you can chose to 'star' those commonly used words or phrases, and easily reference back to them under the 'starred' tab. very intuitive indeed. Google Translate for iPhone is available for free on the AppStore and will with iPhone, iPod Touch, and iPad with iOS 3.0 or later.