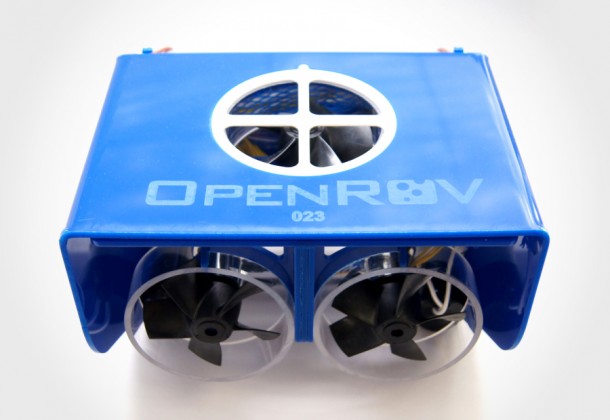 OpenROV | from US$775.00 | openrov.com
perhaps the 'affordable' Remotely Operated Vehicle or ROV Aquabotix HydroView is still quite out of reach for you but don't let that dowse your passion for underwater exploration. the open source robotic submarine, OpenROV could be your baby step towards a career in underwater exploration or for snooping around the underwater caves near your home for possible sunken treasures or relics. conceived by a group of underwater exploration enthusiasts, the OpenROV can be yours as a kit for $775 or if you have a little more to splurge, you could snag yourself a completely assembled OpenROV for $1,200. designed to reach a depth of 100m, this shoebox-size ROV is powered by three 800kV brushless motors – two horizontal thrusters that enable it to move forward, aft and make turns and one vertical thruster allowing the neutrally buoyant machine to change depth.
providing the juice are eight onboard C batteries that you can grab off any regular convenience store, which provides between 1 to 1.5 hours of runtime. the OpenROV has a laser cut acrylic construction and features a water-tight acrylic tube that houses the necessary electronics and equipment, a single twisted pair communication tether cable for control and video feed, onboard linux computer controlled via remote web browser, a forward facing HD USB webcam, two sets of tilt-able LED light array, and a payload bay that you can load up with your research equipment. as for its speed, it has a maximum pace of 1 m/s or about 3.6 km/h. we think the OpenROV is quite a looker too and the price is attractive enough to get almost anyone started with underwater exploration. who knows that one day you might stumble upon some undiscovered sunken stash that could payoff your small little investment? well, you will never know, would you? check out a short clip on the OpenROV in action after the break.