Blackberry is actually a pretty capable smartphone, but unfortunately, it fails to catch up with time and most importantly, it can't catch up with the changing consumer tastes. in any case, that hasn't stop the continual collaboration between design house Porsche Design and Blackberry, and so yes, the two outfits have turn out yet another Blackberry handset, this time it is called the P'9983. the styling does not stray too far away from the previous offering, but that's how we like it anyways. it features a clean, squarish aesthetic, on which you will find a 3.1-inch HD touchscreen display and a QWERTY keyboard with an added exquisiteness provided by the specially crafted glass-like keys. don't sneer at the physical keyboard though. not everyone is enamored by idea of virtual keyboard. if you really have tons of emailing to do on-the-go, physical keyboard is probably rational way to go, albeit at the expense of smaller screen real estate.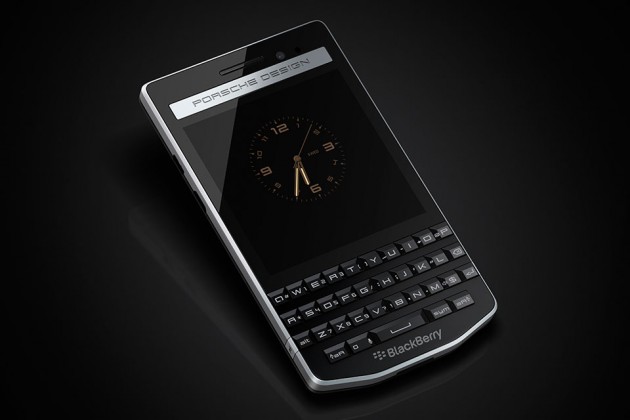 it runs on Blackberry 10.3, spiced up by some Porsche-centric stuff like custom wallpaper and watch face. and in case you are feeling a little alienated by the rest of the world, you'd be glad to know that Blackberry 10 gets to enjoy Android apps such as Minecraft – Pocket Edition, Candy Crush Saga, and more, available through Amazon appstore. there is of course, the usual suite of productivity apps, malware-free we read, available directly from Blackberry World. a few other notable features include Qualcomm Snapdragon S4 chip with a 1.5GHz dual-core processor, 2GB RAM, 64GB onboard storage – expandable up to 128GB via microSD card, 8.0-megapixel rear-facing shooter and a 2.0-megapixel front-facing camera, 802.11a/b/g/n, Bluetooth 4.0, LTE radios, built-in FM radio, and a 2,100 mAh battery that affords up to 14 hours of talk time.
as you can see the spec is not too shabby, however, the real selling point here is, we believe, it has an aesthetic touched by Porsche Design, which makes it a little more attractive. though we don't expect this device will help in garnering new fans. probably just to attract elites who are existing Blackberry users. so how much for one of these pretty handset? €1,650 is the asking price, which translates to about US$2,120. while pricey in the mobile world, it is not awfully pricey if you consider how much some folks are willing to drop for a gold-plated iPhone 6.