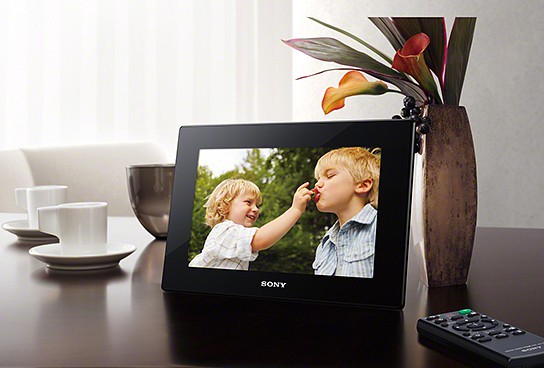 (credit: Sony) Sony HD series S-Frame Digital Photo Frame | from US$119.99 | www.sonystyle.com
Sony has just announced a new addition to its digital photo frame line up. dubbed the HD series S-Frame Digital Photo Frame, this photo frame now not only slides through your favorite digital photographs but also does 1080p full HD playback on its LED backlit high resolution display. it features an advanced image processor that scales and display content up to 192-megapixels, thus enabling the frame to accept footage taken with the most advance digital cameras or HD camcorders. three display sizes will be available, starting from 7-inch, running up to 10-inch model.
[ad#Google Adsense-text-468×60]
other highlights include 2-GB of internal memory, auto resizing of photos to maximize internal space, supports of music playback for background music while you are browsing through the photos or viewing the slideshows. loading of the digital content is via USB flash drive or other media such as SD, SDHC, SDXC, Memory Stick PRO Duo. supported music format include mp3, AAC, and linear PCM, while photo formats supported include JPEG, as well as Alpha's RAW formats. slated to be available this September, the Sony HD series S-Frame Digital Photo Frames prices start from $119.99 for the 7-inch model (DPF-HD700), $139.99 for the 8-inch model (DPF-HD800) and the 10-inch model cost $169.99 (DPF-HD1000).
[toggle title_open="Hide Press Release" title_closed="Show Press Release" hide="yes" border="yes" style="default" excerpt_length="0″ read_more_text="Read More" read_less_text="Read Less" include_excerpt_html="no"]
MEDIA ALERT: Sony introduces new HD Series S-Frame™ Digital Photo Frames, New Models Play Full HD Resolution Movies; Available in Three Sizes (10", 8" & 7")
WHO: Sony Electronics
WHAT:The new Sony HD Series S-Frame™ Digital Photo Frame
The HD Series S-Frame™ digital photo frames let consumers display their favorite memories with innovative, high-quality features, including Full HD video (1920×1080/60p*) playback.
The new models offer AVCHD and MP4 video playback, allowing consumers to view detailed, realistic video with vivid colors and contrast directly on the units' high-resolution LED backlight LCD screen. An advanced image processor scales and displays content up to 192 megapixels, making these frames capable of handling footage taken with even the most advanced digital cameras or HD camcorders, including Sony's Alpha (A-mount/E-mount), Bloggie®, Cyber-shot®, and Handycam® family of products.
A variety of display and effects modes makes creating fun and original photo slideshows a breeze. Slideshow options include Clock, Calendar, Time Machine and Random.
With 2GB of internal memory, each of these three frames can store thousands of images.  Maximizing internal space, the models offer auto-resizing that downsizes photos so you can store them within the device and return your memory card back to your camera. Additionally, the internal memory can store up to 40 songs allowing you to enjoy background music while viewing photos or watching slideshows. Supported audio formats are mp3, AAC, and Linear PCM.
Digital images can be loaded onto the frames' internal memory from a USB thumb drive or several types of media cards, including SD, SDHC, SDXC Memory Card and Memory Stick PRO Duo™. All models support JPEG and Alpha's RAW (thumbnail preview) image file formats.
WHERE:  Available September 2011 at www.sonystyle.com, Sony retail stores and other authorized retailers nationwide. For images and information, please visit www.sony.com/news.
DPF-HD1000 (10" WSVGA LCD): $169.99
DPF-HD800 (8" WVGA LCD): $139.99
DPF-HD700 (7" WVGA LCD): $119.99
[/toggle]
SOURCE: Sony