Scoot in the deep blue sea effortlessly with this super sleek underwater scooter from underwater scooter maker, Sublue, called WhiteShark Tini. While the WhiteShark Tini is powered by a single motor, Sublue said that it has the performance of most dual motors scooters.
The lone motor is capable up to speed as high as 1.4 m/s (about 5 km/h or 3.1 mph, which is average walking speed of a person) and doing so at up to a depth of 20 meters (66 feet).
A 98 Wh battery offers up to 45 minutes of operation under "normal use" or 20 minutes if you keep going at high speed. Recharging takes around 2 hours. The device is ultra portable, weighing in at just 3 kilograms (6.6 lbs) with battery.
But, really, the real star feature here is not the single motor or the sleek aesthetic. Is its modular. You can actually combine two underwater scooters together to double the power and double the fun.
When two WhiteShark Tini are combined together, you can zip through the water at an impressive 2 m/s (about 7.2 km/h or 4.5 mph), which Sublue claims as the fastest dual-motor scooter in the market.
In dual-scooter setup, WhiteShark Tini can scoot underwater at as slow as 1.6 m/s (5.8 km/h or 3.6 mph) for you take in all the view and allowing you do to so for up to 45 minutes per charge.
Furthermore, the device is designed to be easily disassembled with using any tool. This also facilities you to switch the control handle to suit left- or right-handed use.
WhiteShark Tini can also one attached to a specially created inflatable kick board, allowing kids of all ages to have a go too. The inflatable kick board features a built-in wireless controller that lets adult maneuver a child on the WhiteShark Tini around.
Finally, it has a camera mount too, allowing action cam or a smartphone to be attached to the scooter to capture the breathtaking underwater scenery.
Sublue WhiteShark Tini Underwater Scooter is available to order now for 50 bucks less, at US$499 (U.P. US$549).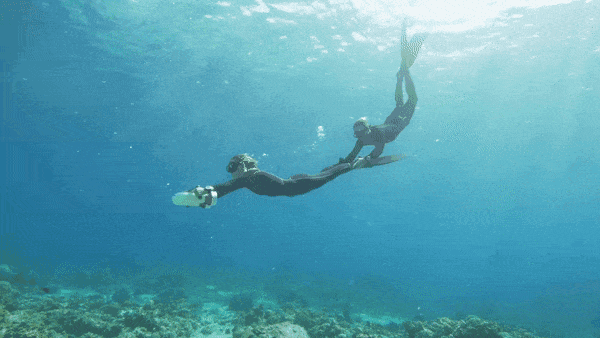 Images: Sublue.