why do one want an iPhone 5 over the newer 5s? because, with the fingerprint scanner in the way at the Home button, you wouldn't be able to enjoy the lavish 24 carat gold plating, embellished with single cut 2ct. diamond. that's why. well, at least that's what The Million Dollar iPhone created by Alchemist has to offer. but the Alchemist didn't just stop at the Home button. the bezel of the said luxury iPhone 5 is of handmade 24 carat gold plated item, studded with over 1,600 individual flawless F grade precious stones, totaling 16 carats, lines the sides of the phone. the 24 carat gold treatment extends to the back of the handset, in brush finish, with more diamonds surrounding it and topped with a 24 carat gold Apple logo, covered with another 53 diamonds.
except for the glass, no metals were left untouched with components, such as the volume buttons, power buttons, mute switch, are also treated with gold. it appears that that one version, the black model, does without diamonds on the said components, while another, the white model, features diamond detailing on them. well, that's assumption our part since there aren't any extensive description to begin with. according to the product page, there only two such lavish examples available for the richie rich's taking, each costing a staggering one million dollars. yes. one million dollars. a figure that could snag you a McLaren 650S with substantial amount of change. then again, we are talking about folks who belongs to Scrooge McDuckian club, so this could be spare change to them too.
rounding up this exquisite and two-off package is a beautiful crafted box, lined with royal purple interior of unknown material, that contains the (literally) precious device, the stock Apple headphones, charging accessory, and documentation. The Million Dollar iPhone comes unlocked, ready for any carrier network of your choosing, and it is covered by lifetime warranty for technical faults or minor cosmetic damage. click through for a few more look at this ultimate in gadget opulence.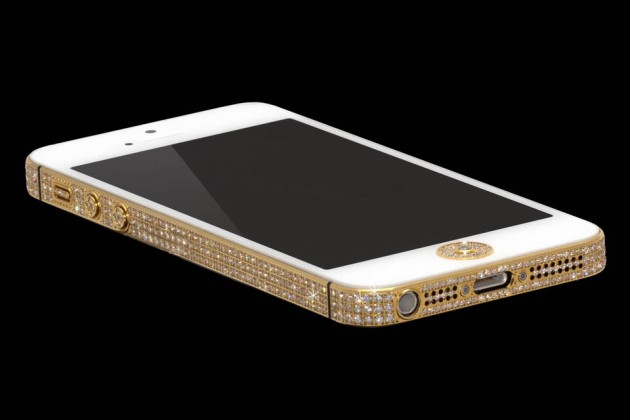 p.s. the black model appears to have a golden fascia, which looks pretty snazzy and there's also a bunch of precious stones lined across the button of the back cover.