when you have a ride as iconic as the Mustang, surely something special needs to be done for its golden jubilee, right? no. we are not thinking of a cheesy birthday cake in the shape of the famous pony… on the other hand, maybe you could get one on your own, but for the rest of the fans, you can look forward to the 2015 Ford Mustang 50th Anniversary Edition. unveiled at the 2014 New York International Auto Show, this handsome stallion is based on the 2015 Mustang GT fastback with Performance Pack. only 1,964 units (marking the year of the first pony) will be offered with a choice of Wimbledon White of Kona Blue and you can also choose between a six-speed stick shift and a six-speed automatic transmission. basically, those are about the only two things you need to choose from cos' this ride is packed to the brim with nearly every available options right of the factory.
in the spirit of the 60s which the Mustang was born, this limited production ride will wear some discreet chrome elements in and around the car, along with distinct louvered rear quarter windows not found in any other Mustang. other visual elements that set this fastback apart includes a large faux gas cap at the rear, 50 Years on the GT name badge and on inside the cabin, it has a cashmere-stitched, leather-wrapped steering wheel and this same stitching can also be found on the instrument panel, shifter boot, center armrest, door inserts and seats. the two-tone cashmere and black leather upholstery resonates its 60s design influence, which surprisingly, still look pretty rad today. other things you can expect on the inside include the obligatory Mustang 50 Year logo on the seat backs and loop-carpet floor mats with cashmere stitching, and suede binding.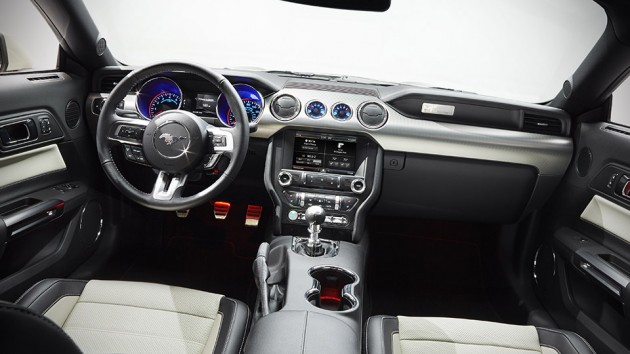 powering the 50th Anniversary Edition ride is an upgraded 5.0-liter V8 engine with over 420 horses and 390 lb-ft (528 Nm) of torque, and as mentioned, it comes fitted with Mustang GT performance pack as standard which will include a set of six-piston Brembo front brakes and 19-inch alloy wheels shod in high-performance Y-speed-rated Pirelli P-Zero summer tires (255/40R up front and 275/40R at the rear). pricing and availability information are not announced yet, but rest assure it will definitely be pricer than your average Mustang. each car will come with a unique owner's guide in a leather portfolio marked with the 50 Year badge on the outside as a final mark of exclusivity.