First seen in 2013 at the Tokyo Motor Show as a concept, the "kei" size sports car from the H badge automaker is finally available, albeit only in the Land of the Rising sun. The S660 picks up where the iconic Beat left off and continues the path of the kei car, which limits its physical size to within 3.4m by 1.48m and no taller than 2m. Engine and power are also limited too, to 660cc and 47kW or 63 horsepower, respectively. Naturally, the S660 conforms to all of the parameters of a kei car, just like the Pininfarina-designed Beat, which means this two-seater convertible is far from a S2000 or NSX competitor; it is simply an "exotic" ride designed for fun driving.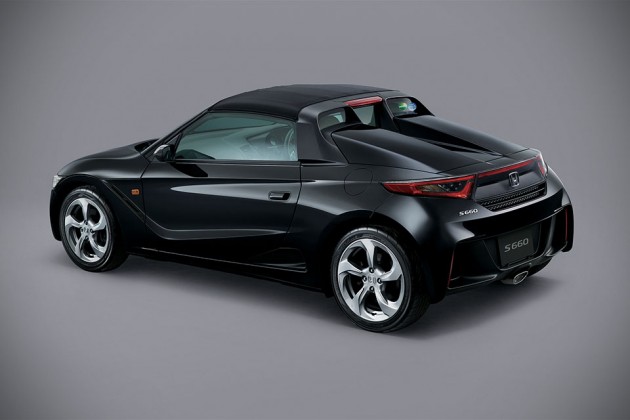 Under the hood, it has a 660cc in-line three engine, turbocharged for some extra oomph that peaks out at a modest 47 kW (63 hp) and 104 Nm (77 lb-ft). Clearly, the numbers aren't something to shout about, but considering it tips the scale at just 1,850 lbs (840 kg) and plus the fact that it rides on a mid-engine, rear-wheel drive layout which offers a 45/55 front-rear weight distribution and is paired to a specially tailored six-speed manual transmission, the S660 should be a spritely car. For those who prefer not to work the stick shift, you'll be glad to know that the S660 is also offers with CVT which features a convenient 7-speed paddle shifter with sports mode.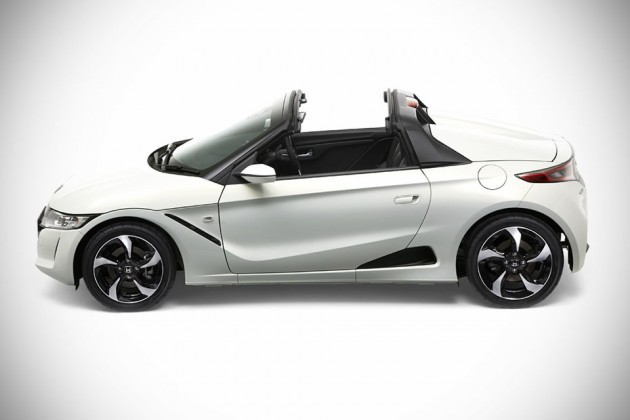 Other highlights include Agile Handling Assist for easier turn ins with minimal work in handling, Honda's original sound tuning for authentic sports car sonic (including the pssh offered by the blow-off valve), lightweight manual roll-top, optimized driving posture, as well as accelerator and brake pedals that offers a go-kart feel, small 350mm steering wheel for added sporty feel, full-auto air-conditioning system, retractable rear glass for a more open-air feel when the top is down, a low and wide body with short overhangs emphasizing the sportiness, a sport-influence cabin, plus a host of safety features including i-SRS airbag system, Vehicle Stability Assist, Hill Start Assist, Emergency Stop Signal system and more.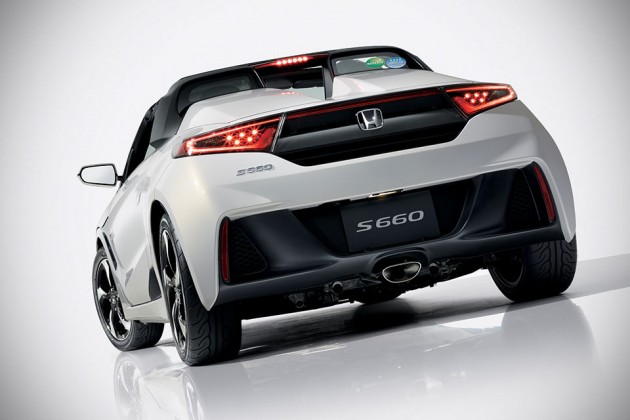 The 2015 Honda S660 'Kei' Sports Car is available to residents of Japan, price starting at 1.98 million Yen. In addition, 660 units of the S660 Concept Edition is also being offered to mark the market launch of the S660. Priced at 2.38 million Yen and up, the Concept Edition boasts feature like Bordeaux red roll-top, dual tone side mirrors, specially coated exhaust tailpipe, "Ultra Glass Coating NEO" water repellent body coating, door glass with water-repellent coating, red stitched sports leather seats, leather-wrapped steering wheel and shift boot, leather wrapped shift knob for manual version with shift pattern engraved in red, aluminum plaque with serial number, center display, and added safety feature City Brake Active System (Collision Mitigation Brakes in low-speed range and False Start Prevent function).
Those in the U.S. do not be disappointed, we read that a more powerful version may be heading to stateside, as for the rest of the countries, I guess grey import is the way to go. Keep going to catch a video of a pair of S660 in action, plus a bonus video of the S660 being produced in the factory.