The sixth-generation Camaro has finally been unveiled on Saturday and as we all know, it is kind of a big deal for Chevrolet because it is a Camaro. The new generation fastback muscle car is said to offer a more nimble driving experience, attributed by an all-new, lighter architecture and of course, a broader powertrain range. That said, we will never understand the rationale of offering a wide engine range. I mean. It is a Camaro for goodness sake. It is supposed to perform and as such why do you need an entry-level 2.0L turbo unit? Not that 275 horse and 295 lb-ft (400 Nm) coming from the 2.0L unit is anything shabby, but it is pretty pale when compared to the 3.6 V6 powertrain which delivers 335 hp and 284 lb-ft (385 Nm) of torque and the range-topping 6.2L V8 of the Camaro SS that pumps out 455 horses and 455 lb-ft (617 Nm) of torque.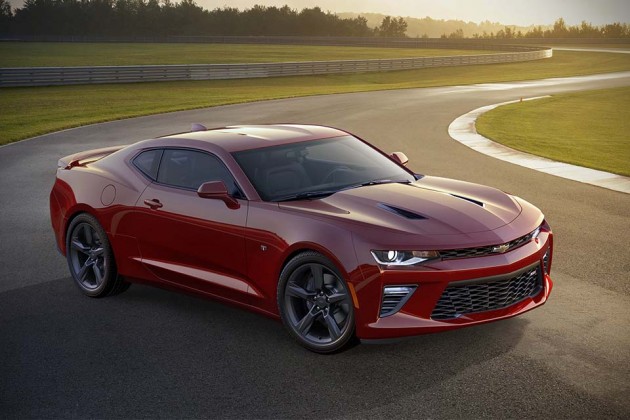 Whichever model you decided on, you will have a choice of a six-speed stick shifter or an eight-speed automatic. Aesthetically, we can all see that it is much leaner and sporting a dramatic, sculpted body that's the result of "meticulous wind tunnel tuning." Depending on the model, the new-gen Camaro could be lighter than its predecessor by as much as 200 lbs and if you are gunning for the 2.0L turbocharged model, you can expect a better fuel economy (over 30 mpg, we read) and a 0-60 acceleration of "well under 6 seconds."
A few other notables include option for Magnetic Ride Control for Camaro SS, all-new Drive Model Selector (Snow/Ice, Tour, Sport and on SS models, Track settings), interior Spectrum Lighting with 24 different ambient lighting effects to choose from, hi-def configurable color displays, LED lightings, flat-bottom steering wheel, a shifter-focused center console (our favorite, no doubt), and unique control rings around air vents for temperature and fan speed adjustments. The 2016 Chevrolet Camaro is expected to go on sale later this year in the U.S.