One of the beauty of Internet is e-commerce, which opens us to a bountiful of bizarre things we could buy with our hard earned dough. While surfing through Amazon, the world's largest online retailer – not the rainforest, we stumbled across some pretty crazy weird and sometimes rather hilarious things that's up for grab. It ranges from a tank (yes, a freaking tank!) to the dangerous Uranium to nerdy UFO detector. Keep going to check out our list.
JL421 Badonkadonk Land Cruiser/Tank aka Donk


Looking more like Jabba the Hutt's sail barge from Star Wars: Episode VI Return of the Jedi, the JL421 is kind of like a tank, but less the tank tracks and big gun. Instead of tracks, it has got four wheels that are powered by a beastly 6 horsepower motor. The lack of power is compensated by a bombastic 400W premium sound system. Top speed is limited to 40 miles an hour and it is big enough to accommodate 4 passengers, or 2 if you being sardine packed is not your cuppa. It can be driven seated within the tank or standing position out of the top hatch. It is not road legal though, but that doesn't mean it is any cheaper than a real car.
This thing cost a whopping 20 grand. I am sure not many have bought it, though we can't help but to notice an exceedingly interesting fake comment by one V. Zhirinovsky, among a tons of other tongue-in-cheek comments. Here's his comment:
"I am an acquisitions officer for an artillery unit in the Russian Army. Since mafia hooligans stole all of our equipment to sell to Kyrgyzstani rebels, we have been looking for a low-cost alternative to the T-80 Main Battle Tank. After successful trials at a facility in Moscow, this so-called "Badonkadonk" was approved for use in the Chechen theatre. Initial reports were favorable, but then somebody noticed that the tank lacked a cannon, treads, and armor, and possessed the engine of an electric bicycle. It did, however, have an excellent audio system, but this failed to compensate for its disappointing 100% mortality rate. Recommended only for use against Lithuanians."
Why do we get the feeling that reading the comments will be equally, if not more fun than owning this 'tank'?
Uranium Ore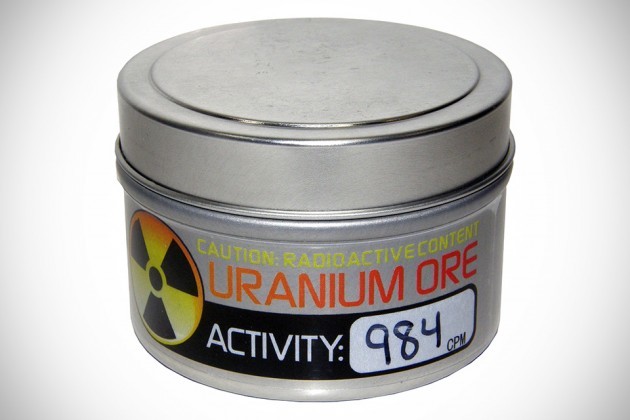 Listed for use by educators and scientists (mad ones, I supposed?), the Uranium Ore is a real deal radioactive stuff that you known, has seen application in ammunitions and to derive nuclear power. The level of CPM (counts per minute), which was determined using a NRC certified digital Geiger Counter, is labeled on the container, so it could be use to verify your own Geiger counter, or something like that. Unlike some potentially dangerous materials as portrayed in Hollywood movies, the Uranium Ore does not cost millions or billions. Instead, a tin of this sample retails for just $39.95. Also, you don't need to have messy, Einstein-like hairdo and/or wear a lab coat to deal with Amazon to get it. And I am pretty damn sure that you won't be collecting it on a helipad atop of some commercial building, right smack in the city.
UFO Detector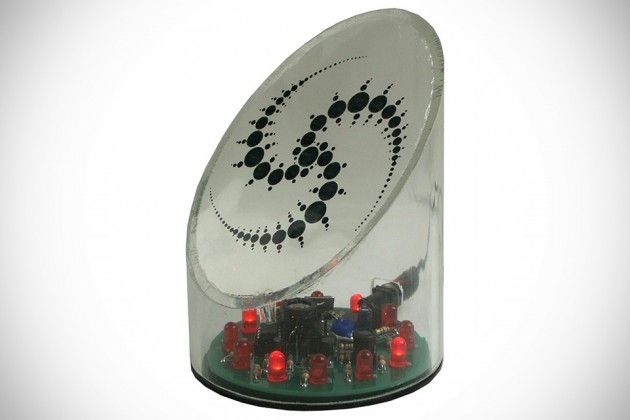 Whether you are an UFO enthusiast or an UFOphobic, you will want to pick this up. Well, that's if it promised to work as advertised. The UFO Detector senses magnetic and electromagnetic disturbances to continually monitor for any UFO presence 24/7. Under normal circumstances, i.e. free of UFOs, the blue LED rotates in circular pattern, but when it detects an anomaly, the LEDs flashes and the device beeps simultaneously. Magnetic and electromagnetic disturbances have been proven occurrences whenever there's UFO activity, or so we were told, but we are wondering with so many electronics in today's context (you know, WiFi and stuff), will it be accurate? Or what if alien technology has gone stealth and no longer disturbs our Earthly electronics? Just saying… Also, your passion for UFO detection, or your fear for alien being visitation, won't come cheap. The UFO Detector cost a rather hefty $89.66 a pop.
Runny Nose Shower Gel Dispenser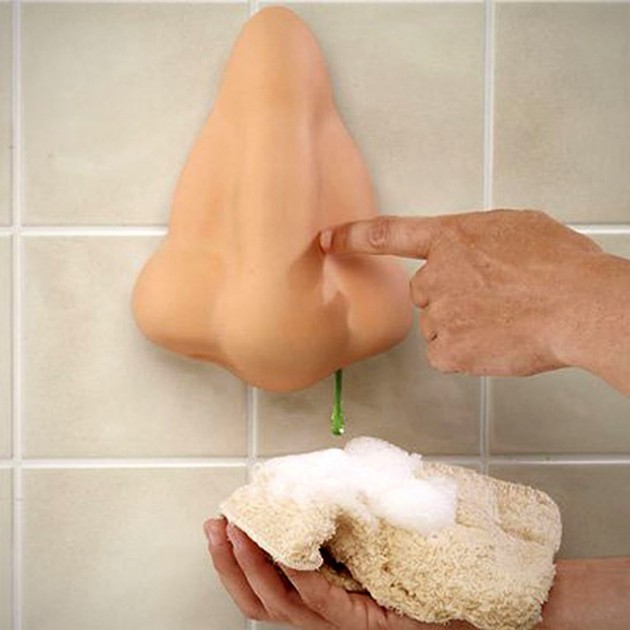 A bathroom loaded with GROHE and Kohler accessories is nice, but lack the fun factor. A shower must be relaxing and having everything expensive and stylish does not the guarantee fun. This is where the Runny Nose Shower Gel Dispenser. As the product name suggests, it is a shower gel dispenser, but with a wacky touch. Instead of the usual push button or pump, you press the nose to let out goo, wait, I mean shower gel of your choice, out of the right nostril. Refilling is via the back by unscrewing the cap. Amazon described it as "a gross but great gag gift idea for boys and wacky pranksters," but we beg to differ. It should be more fun than gross – unless the stuff that comes out of the right nostril isn't shower gel… The Runny Nose Shower Gel Dispenser is totally affordable too; costing just $8.36 each.
Wallmonkeys Asia Old Man Peel and Stick Wall Decals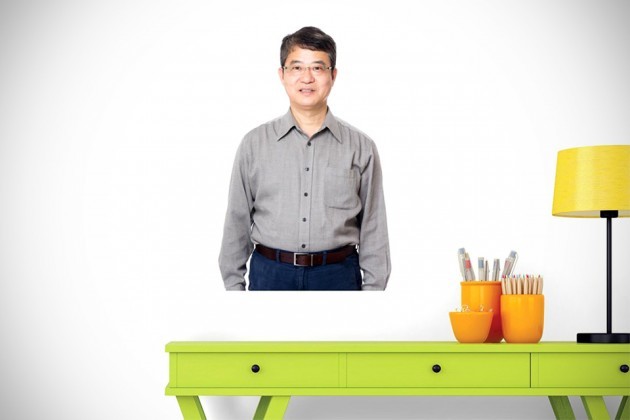 Decorating walls with decals is not new, but would you rather put a decal of an Asia Old Man as opposed to high-resolution scenery of Japan's famous sakura trees? Well, if Asia Old Man is right up your narrow alley, then Wallmonkeys Asia Old Man Peel and Stick Wall Decal is for you. Dished out in highest quality semi-gloss vinyl to offer vibrant and bright image of an old Asian dude (pre-cut to his shape, of course), this made in the USA decal is totally removable and repositionable with no sticky residue, so you can relocate the old man as and when you desire. Though we have absolutely zero idea why would anyone wants to put a non-celebrity decal on the wall, much less an old man. But hey, its your money and no one is stopping you from doing so. The Wallmonkeys Asia Old Man Peel and Stick Wall Decal is priced at $27.98.
ThinkGeek Canned Unicorn Meat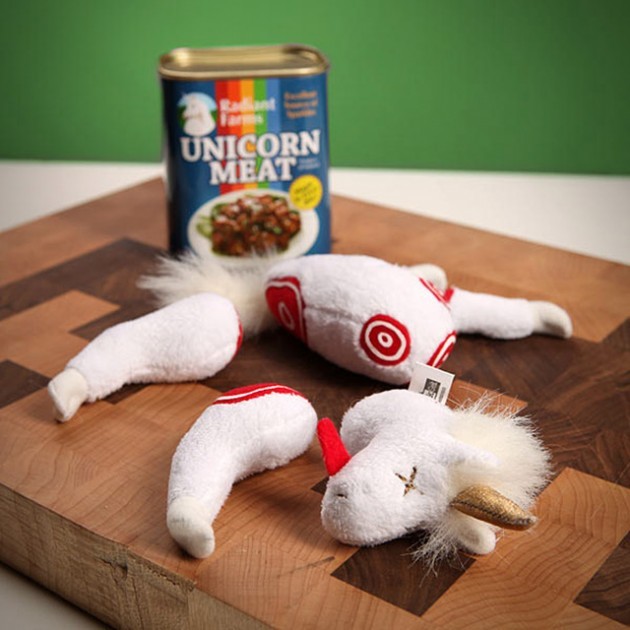 Some say chasing after UFOs is akin to chasing unicorn and by that, it means it would probably a futile act. Why? Unicorn is thing of fairy tales; it does not exist, or does it? While we have yet to see a live unicorn, there's a dead unicorn in this "canned food." Ok, seriously. You can't eat it. First, unicorn is not real (must we remind you of that again?) and also, what you find in there is stuffed unicorn, or dismembered stuffed unicorn, to be exact. But the real fun is in the official description, served up by the geeks over at ThinkGeek and it reads:
"No foolin' – Unicorn meat is real! Excellent source of sparkles! Rick Bite Unicorns, as we all know, frolic all over the world, pooping rainbows and marshmallows wherever they go. What you don't know is that when unicorns reach the end of their lifespan, they are drawn to County Meath, Ireland. The Sisters at Radiant Farms have dedicated their lives to nursing these elegant creatures through their final days. Taking a cue from the Kobe beef industry, they massage each unicorn's coat with Guinness daily and fatten them on a diet comprised entirely of candy corn…

…due to restrictions on the importation of mythical processed meatstuff, we are unable to bring you Canned Unicorn Meat in the way the Sisters of Radiant Farms intended. When you open your can, you will find one tiny unicorn which has been appropriately sliced into its main cuts of meat. Simply use your Growth Ray to re-embiggen the unicorn before skinning it and processing its flesh. Or if you're lazy, just bring it to your local Mad Scientist-Butcher. He'll know what to do."
Sounds like fun? It will make a perfect prank prop for this coming April's Fools Day. ThinkGeek Canned Unicorn Meat retails for $14.20. Whoever said exquisite meat costs more? Huh?
Thanko USB Shield Mask with Fan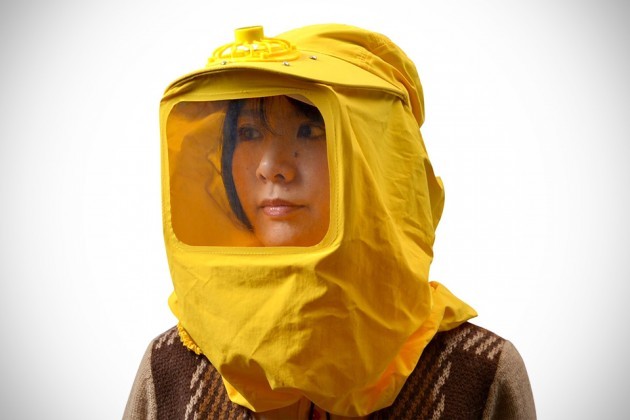 Spring is associated with pollination, which some hypersensitive folks dread. While most people would have live the living hell, the Japanese won't let the Spring allergy ruin the day. In comes the Thanko USB Shield Mask with Fan. The shield mask is outfitted with a USB-powered fan that draws filtered fresh air into the hood, so you can breathe real air without the pollens and to ensure that no dust or pollen infiltrates your cosy pollen-free environment, the shield mask will cover you completely from head to the shoulder. If that's not enough, you'd be glad to know that disposable earloop face mask can be attached.
It promised to provide comfortable breathing that won't encourage fog ups and the wide view, away from face design ensure your makeup won't be ruin. Then again, I doubt anyone will notice your inch-long fake lashes behind that clear cover. The product is the brainchild of Japan's undisputed kind of weird products Thanko, but it can be acquired from Amazon for $43.98, which should safe you the additional cost from importing yourself.
There you have it, our list of 7 Weird Things You Can Buy On Amazon. So, would you buy any of it (save for the big ticket item, the 'tank'), or did not find all of them weird? Let us know in the comment below. We would love to hear from you.