It has been a couple of years since we first saw the mechanical and smartwatch hybrid, Crossbow, from Swiss company Hyetis. Well, the not-so-good-news is, it is not happening – at least for now. There's good news though, the outfit did not ran away with the money; instead it has developed another 'less ambitious' timepiece that's also a mechanical/smartwatch hybrid and it's called Alpha. Alpha is basically the renamed Redline unveiled in 2014. As a luxe timepiece, Alpha has a self-winding mechanical movement with a 48-hour power reserve and hence, it will serve to tell time even if the smartwatch battery conks out.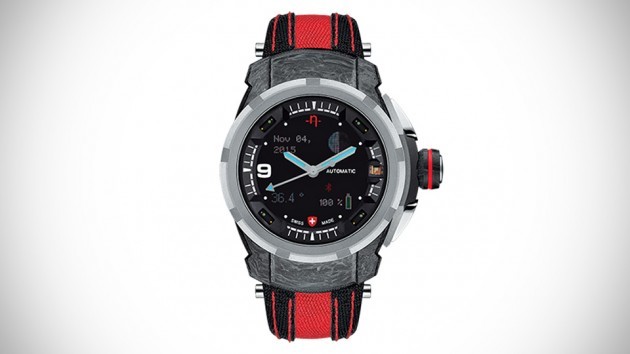 It has a ceramic or compressed carbon case, doubled-sided antiglare coated sapphire crystal, and luminescent polished rhodium-plated metal hands and indexes. The physical hands sit atop of the two OLED displays, minding its own business while the dial face gets on with displaying whatever function you demand. Interestingly, navigating the Alpha requires no actual touching; instead uses gesture, along with the push-in crown facilities the access and navigate the functions and integrated apps. Gesture recognition is a brilliant idea, as it avoids smudging of crystal, which shouldn't happen on any luxe timepiece to begin with. Honestly, have you seen a luxe timepiece like say, a BR01, full of smudges on the crystal? Probably never. So, I guess it is a good move there.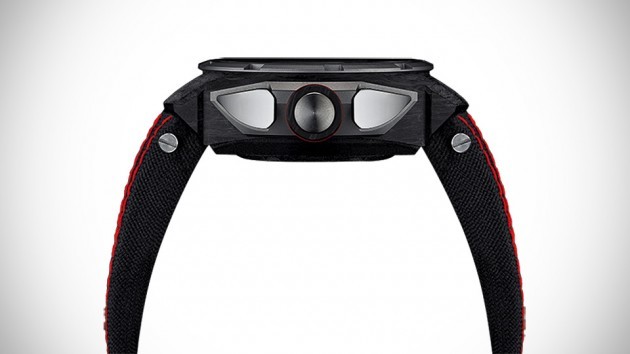 As a smartwatch, Alpha's FreeRTOS-based ChronOS will play well with both Android and iOS smartphones, working as an extension to your choice device to push notifications such as emails and texts as they are being received, while working independently to provide you with data like ambient and biometric parameters, pressure, heart rate, calories et cetera. Information collected is display on the screen, or saved in the watch's 4GB internal memory. Hyetis Alpha Smartwatch comes in a choice of two models: ceramics case version and compressed carbon case version (Alpha Pro) and is available on Hyetis web shop, priced at 3,900 CHF and 4,950 CHF for the standard and pro model, respectively (which is basically US$3,900-4,950).