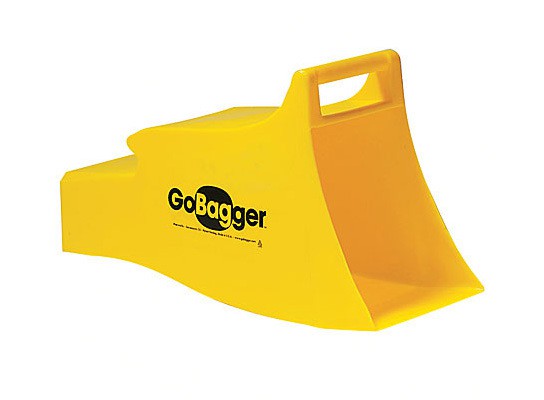 GoBagger One Man Sandbag System | US$59.95 | www.gobagger.com
(photo credit: gobagger.com)
sometime, the simplest things should also deserve some form of innovation. hence, even the simplest chores should deserve an update in the way it has always been done. this is what GoBagger aims to do: change the way how we bag our sands. traditionally, filling of sandbag requires at least two person – one person holds the empty sandbag, and the other shovels the sand into the bag. sounds simple enough but what if we could speed up the process by, say, five times?
GoBagger does exactly that and all it takes is one man to do the job that quickly. the concept is simple: a scoop-like device with a handle upfront, a mouth (entrance), a back handle and an exit. the user use one hand to hold the front handle, while the other hand holds the back handle with the sandbag tucked in place. with a scooping down action, the mouth of the device receives the sands and the upward swing action, throws the sands back through the exit and into the sandbag. simple and quick action.
depending the size of the sandbag, and the user's scooping action, one scoop with the GoBagger could be enough to fill a single bag. well, why we didn't think of that? constructed out of low-density polyethylene, the GoBagger weighs in at just 1.9 kg which makes it easy to transport around. on top of that, the nature of its design enables several of the GoBagger to be "stacked" together for easy storage and transportation.
according to GoBagger, the traditional way of sandbag-filling can produced 85-90 bags an hour, but with the GoBagger, the same two person can churn out 480 bags in an hour. this is THE model for efficiency. we simply love innovation.
via Gizmag