well, the next-gen iPhone has broke cover and as expected, the two models were announced: a 6.9mm thin 4.7-inch model, dubbed iPhone 6 and a 7.1mm thin 5.5-inch model, known as iPhone 6 Plus. both models have almost identical specs with a few exceptions, most notably, the display. the 6 gets a 1,330 x 750 resolution with 326 ppi and over a million pixels, wile the Plus has a Full HD display boasting 401 ppi with over two million pixels. Apple is calling the new displays, Retina Display HD, but whatever they call it, it is still kind of disappointing to be on HD for the 4.7-inch iPhone 6. design-wise, the duo are what you expect of Apple; it sports a beautiful continuous seamless design that harkens back to the original iPhone, a relocated power button which can be found on the right, and it is equipped with ion-strengthened glass over its IPS display.
processing power comes from a new-generation A8 chip packing a cool 2 billion transistors and 64-bit support, and said to be 13% smaller than the A7 chip but is 25 percent faster in processing performance. the seventh iteration of the iPhone is now 50 times faster than the original and yet, it is 50 percent more energy efficient than the last-gen chip. along with the more powerful processor, comes a new M8 coprocessor which now estimates distance and measure elevation changes, and there is also a new sensor onboard: barometer. on the imaging department, the new iPhone is touting a 8MP iSight camera with True Tone flash, large 1.5-micron pixels, f2.2 aperture and coupled to new sensor. it also boast Focus Pixels for continuous and faster autofocus, and it now takes panorama at 43MP. there is also advanced face detection and best shot mode, though OIS is said to be available on 6 Plus only. Full HD videoing at up to 60fps and slo-mo at 240fps (double that on the 5s), comes as standard. it also has a new FaceTime HD camera that promised 81 percent more light and improved face detection and wait for this… burst selfie mode to appeal to selfie lovers.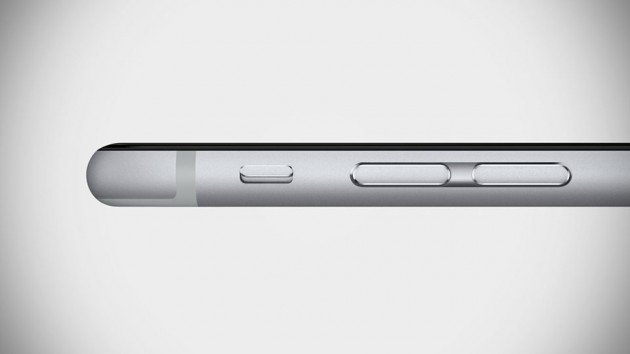 other details include timelapse photo mode, seamless WiFi to cellular and vice versa transition, WiFi calling to make high-quality calls when cell signal is poor, Touch ID (of course), wireless ac, NFC (!), supports the newly announced Apple Pay (to be available in the U.S. in October), supports VoLTE for clear voice calls, advanced wireless specs 150 Mbps LTE, and plus the usual eco-friendly credentials. Apple also claims to have improved on the battery department since now the new phones are most definitely going to be guzzler. expect 14 hours of talk time for the 6; 24 hours for the Plus, up to 10 days standby for the 6 and 16 days for the Plus. and oh, the phones will of course runs on the spanking new iOS 8. as for the pricing, iPhone 6 16GB cost $199, 64GB $299 and 128GB versions will set you back at $399. as for the iPhone 6 Plus, prices start at $299 for the 16GB models and runs up to $499 for the 128GB model. prices are, naturally, quoted with two-year customer agreement. pre-order starts on September 12 and available on the 19 in the U.S., Canada, U.K., France, Germany, Australia, HK, Singapore and Japan, with more countries to follow suit.