if you thought Mercedes-Benz G63 AMG 6×6's six wheels weren't enough to cut through marshes and swamps, then perhaps going on eight wheels could, but that eight-wheeler is not from prestige marque like Mercedes. it is from a Russian truck maker, Avtoros and the vehicle in question that will let your conquer virtually any kind of terrains you can throw at it is the Avtoros Shaman 8×8 All-Terrain Vehicle. as the name implies, this truck has eight wheels and is designed specifically to go anywhere Russian landscape has to offer, be it marshes, snow, steep terrains – you name it, and it is amphibious too. it is a full-time eight-wheel drive vehicle with a compelling, almost military-like appearance, save for the bright orange paint work that makes it look a little less military-like. the eight-wheeler is powered by an Iveco F1C 3.0-liter turbo diesel engine, delivering 146 horsepower and mated to a ZF 6 S 400 six-speed manual gearbox.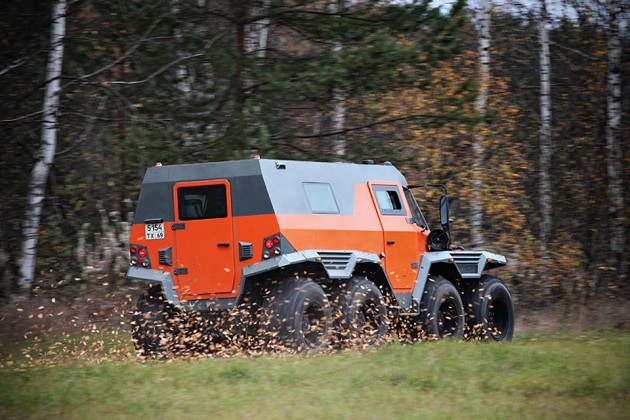 this is an ATV which finds itself more at home on tough, unforgiving terrains than on paved roads, and therefore, it is by no means built for speed. the Iveco engine and ZF transmission combines to afford a top speed of just 80 km/h (50 mph), but it has an added advantage of being able to swim. the Avtoros Shaman is capable of forging the water at a briskly 7 km/h (4 mph) and its chassis or hull is completely sealed and optimized for floatation when in the water. the vehicle runs on low pressure optimized tires which can be regulated at a flick of the switch from within the cabin. but the real highlight is the steering. the vehicle offers three ways of steering. first, the cruising or on-road mode where only the front four wheels steers. the second is the off-road mode where the active rear wheel steering kicks in. in this mode, the front and rear sets of wheels steers in opposite direction, thus affording a tighter turning radius, and finally, there is the "crab-mode" where all eight wheels steers in the same direction, thereby allowing the vehicle to actually move sideways – like crabs. pretty cool, huh?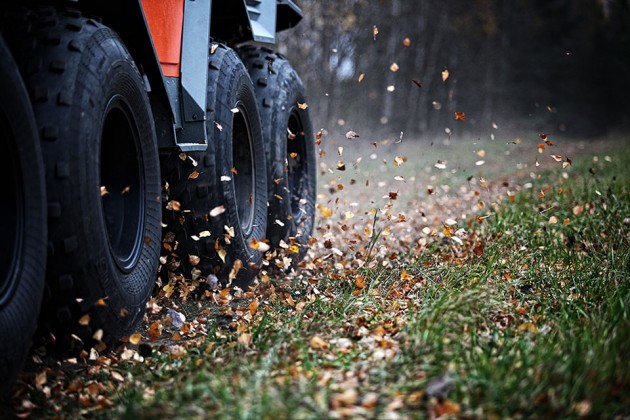 this is like the dream off-road vehicle for us. the vehicle is pretty huge; it measure a cool 6.2 meters long, 2.5 meters wide and stands 2.7 meters tall and has a payload of up to 1.5 tons. it has a very low C.G. and together with the low pressure tires, enables it to scale 45-degree incline. the vehicle is customizable, but whatever goes behind, be it cargo hold or passenger seats, one thing remains unchanged: the driver sits right in the middle, up at the front. so, this is a 'center drive' truck, just like the McLaren F1. so what's the price of such awesomeness? according to RT.com, it will cost about €100,000. ouch. keep going for a couple of videos to see it in action.