being wheelchair bound does not mean one has to be restricted to the confines of proper roads. with the Hexhog All-Terrain Wheelchair, wheelchair users will be empowered with the ability to explore the vast wilderness and backcountry areas which conventional wheelchair can't go – all thanks to the vehicle's patented flexing chassis and a six-wheel drive system. yes. you heard that right. not two. not four, but six wheels – necessary for tackling the tough, unforgiving terrains. powered by a pair of permanent magnet pancake motors, driving all six wheels through independent shafts, the Hexhog All-Terrain Wheelchair has a top speed of eight and half miles per hour and can handle up to 30-degree gradient in any given direction.
the motors are kept juiced by a 36v lithium-ion battery pack which offers up to 12 miles of range and recharges in less than 2.5 hours when charged using high frequency charger. the suspension provides a generous 450mm of wheel travel, while the unique chassis design ensures that all six wheels will remain in contact when traversing across the various terrains. the driving motors are intentionally raised and together with a sealed transmission, allows it to tread water, cut across mud bogs, and take on cross snow or sand without missing a beat. like most powered wheelchair, including the tracked sport wheelchair we have seen recently, maneuvering of the Hexhog All-Terrain Wheelchair is via a joystick system. the vehicle rides on six chubby 20×10-10 tires and has a secondary braking through fail-safe magnetic disc brake.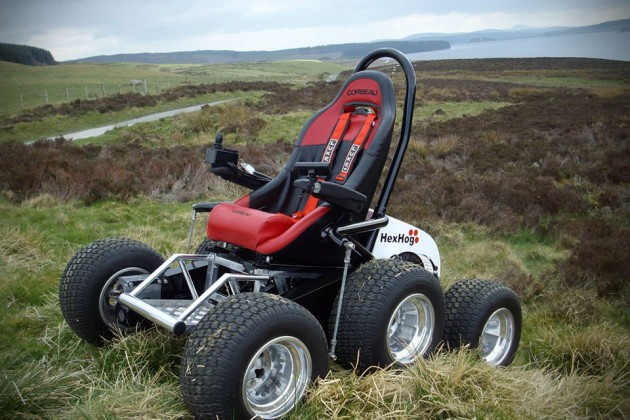 additionally, it also boasts a seat transfer system that advances and lowers the bucket seat to a position that allows easier transfer from a wheelchair. all told, this cross-country capable wheelchair weighs in at a hefty 275 kg (that's over 600 lbs), which makes it one hefty ride to be transporting around. so how much will this monster wheelchair cost? apparently, it has a sticker of around $30,000 and that's yet to include the purpose-built trailer necessary to bring it around, which means this off-road wheelchair, though awesome, is likely to be reserved for the elite few. keep going for a video of the vehicle in action.