Full scale Batman cowl is not new, but the Batman Arkham Origins Batman Full Scale Cowl Replica you see here is definitely worthy of a mention (and many mentions after this), because it is not just a 1:1 scale Cape Crusader's cowl based on the video game of the same name, it could also be an awesome decorative light too, albeit a rather pricey one – thanks to its unique light up functionality. So, take that Iron Man, because light up awesomeness is not exclusive to repulsors and Arc Reactor. Cast in polystone, the replica is intricately hand-sculpted and painted by the artisans over at TriForce and boasts extreme attention to details, right down to the scratches on the cowl. But perhaps, the most impressive coolest part is the base which it sits on.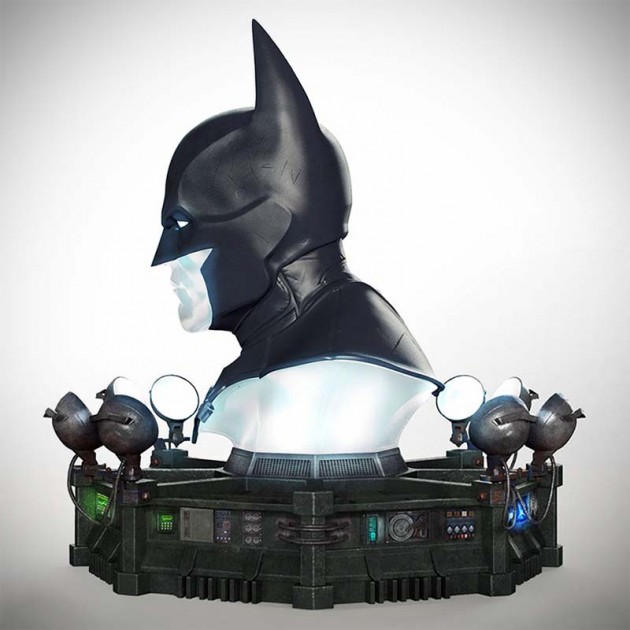 The stand is actually a miniaturized version of part of the Batcave and comes complete with nine LED lights, of which eight are searchlights and one presumably buried under the transparent giant head sculpt and bust of dear Mr. Bruce Wayne. The 'searchlights' bathes the cowl with deserving the shine, while the LED under the bust makes like the cowl is floating. It is a full scale replica, so expect this thing to be ginormous, measuring a good 26 inches (66 cm) tall and weighing in at a hefty 35 lbs (15.9 kg). The latter is something to note when shipping this item as it will definitely bump up the cost of ownership. Just thought that you should know. If a light up Bruce Wayne bust takes your fancy, you can pre-order one today for a cool $850.
Though you have be aware that it won't be available until fourth quarter of 2015 and shipping rates will only be advised at the time of fulfillment, which means you may be greeted with some really nasty surprises if you're residing far away from where TriForce's shipping origin. For procrastinators, perhaps knowing that only 500 pieces will be made available worldwide may help to speed up your decision-making process.