a year ago, BMW Motorcycle presented to the world the heavily retro-styled, boxer engine-powered Concept Ninety at the Concorso d'Eleganza Villa d'Este to mark the Munich motorcycle maker's 90 years in business, but that was a concept that will remain as a concept, well, at least thus far. however, at this year's Concorso d'Eleganza Villa d'Este, it pulls the wraps off yet another concept which may just be the foundation of future generations of boxer-powered roadsters. simply referred to as the BMW Concept Roadster, it has an obvious contemporary appeal that borders between today's design and the future's, which we take it as a probable look into what BMW has to offer to bike enthusiasts in future as far as boxer engine-driven two wheelers are concerned.
a 1,170cc 2-cylinder boxer engine, kicking out 126 hp and 125 Nm (92 lb-ft) of torque, sits at the mid-way and lower section of the vehicle, which when combined with the vehicle's powerful, flowing styling, conveys a ride that looks as if it is ready to pounce forward. the lower section is intentionally finished in black to give it the visual appearance of sitting nearer to the ground, while the top is presented in lighter shade to convey a sense of lightness. speaking of the top, it is akin to a single, free flowing stroke made by an artist which starts with a sculpted fuel tank and continues aft to a single-piece aluminum rear with a motor racing-inspired perforated Alcantara leather seat. the Concept Roadster also features a unique approach to headlight design, comprising of a flat 'face' with LED light banks and boast a minimal instrument panel offers relevant information to the rider without the clutter.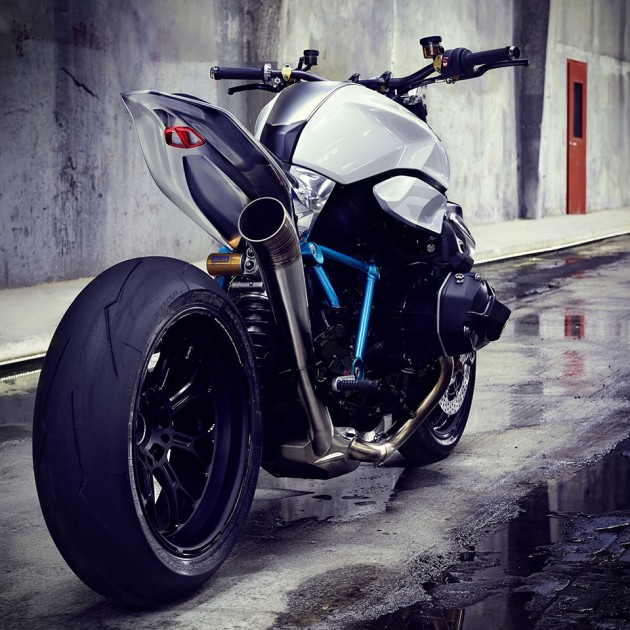 other highlights include a carbon fiber front wheel fender, a tubular space frame in Sparkling Racing Blue, precision milled aluminum parts, gloss aluminum lateral air intake for channeling air to the radiator, a protection pad that offers protection to the valve covers during extreme banking angle (much like the knee pads of a racing suit), 'future-oriented' engine spoiler offers aerodynamic benefits, and a short, steep exhaust tailpipe. if the long history of Concorso d'Eleganza Villa d'Este has taught us anything, it is the knowledge that concepts gracing this prestigious annual event are almost unlikely to roll of the production line. but as always, we have images to tell the tales which you can find along with this post. do click on the images for larger views.