there are marques turning out concepts that are pretty much out of these world – a move that is as cruel as the car itself, because, you see it, you drool over it, but you can't buy it. almost all automakers at some point in time did so, all maybe except for MINI… until now. unveiled at the Concorso d'Eleganza Villa d'Este 2014, the MINI Superleggera Vision is a concept roadster born out of a collaboration between the British brand and Italian coachbuilder Touring Superleggera. this decidedly un-MINI open top concept is understandably not a result of MINI's drawing board, but it belongs to the Italian outfit's handiwork, though it does sport a few MINI design cues such as the round headlamps, a centrally mounted speedometer and a steering column-mounted tachometer – both are of pretty large proportion and are signature design trades of a MINI.
there is also an unusually large, thin-rimmed three-spoke steering wheel that reminiscences of old British roadsters, as with the inlaid bonnet. beyond that, the Superleggera Vision does not quite carry MINI's DNA; in fact it look more like a mash between an Aston Martin and a Jaguar, which we thought is a refreshing (design) approach as far as MINI is concerned and definitely an eye-pleaser. powertrain is unknown, except that it will be an electric drive, but that don't matter as we taking the design all in, ignoring the fact that it does need an power plant to move. it may sounds crude, but we definitely more drawn to the behind than the front end. the fin the single most outstanding aesthetic feature and we thought the split-apart Union Jack taillights are pretty rad too.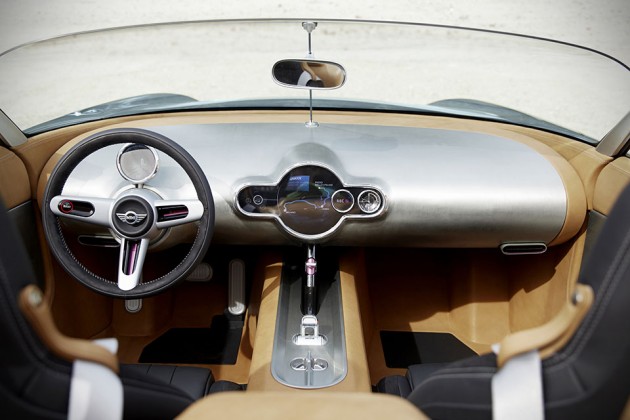 back to the cabin, classic materials, aluminum and leather, converge within the decidedly minimalistic interior, while a pair of sporty bucket seats wrapped in black leather adds a hint of MINI motor racing lineage. well, that's about the essence of the story; we rather not bore you with the full blunt of the PR text which consists mostly of overstretched and often ridiculous reasoning of the design language of this otherwise handsome ride. instead, we propose you take a closer look at the handpicked images, courtesy of BMW Group, to admire the beauty for yourself.