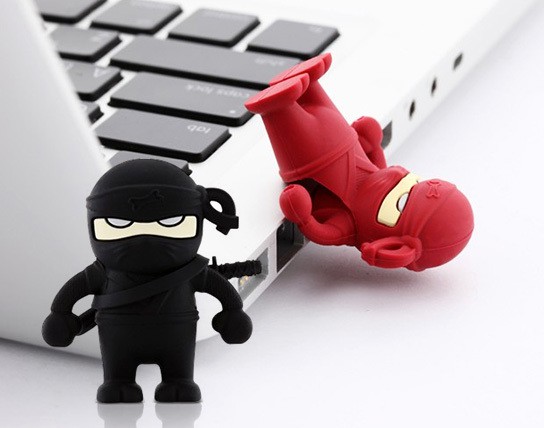 (image credit: Fruitshop International) Bone Collection Ninja Flash Drive 4GB | US$24.99 | www.fruitshop.com.tw
USB flash drive comes in variety of shapes and sizes and here's one that would have ninja-fans going gaga. beyond its sinister but adorable-look and its removable water-resistant silicone jacket, this ninja actually has a USB in its back. true to the ninja's way, the Bone Collection Ninja Flash Drive features magnets concealed within it that let it scaled up any ferrous surface.
bow the ninja forward to expose the USB 2.0 interface. at this point, try not to let your imagination run wild *ahem* when you plug this flash drive into your USB. the Bone Collection Ninja Flash Drive comes in three colors: black, red or purple and is up for grab at $24.99 from Amazon. hmmm, kind of complements the sushi series USB flash drives, don't you think so?