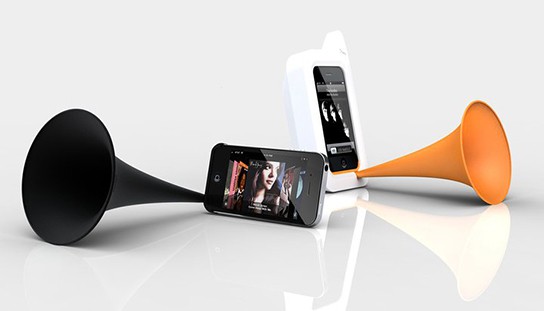 (image credit: ARK) ARKCANARY II iPhone Speaker | US$13.00 | arkwhat.com
this is probably the cheapest way to amplify the sound of your iPhone without draining those precious juice from it. from the guys who brought to you the chunky foam iPhone case, comes the ARKCANARY II, an analog speaker that reminisces of a gramophone loudspeaker.
the ARKCANARY II clips under your naked iPhone (or used with ARKHIPPO I), thus amplifying the sound naturally. it works on the same principle as the Koostik iPhone Dock, but a little less complicated and more portable. it also doubles as an iPhone stand too. sharing (or annoying, depending on the situation or your intent) has never been easier. blast it out loud to annoy your colleague who's fervently working in the next cubicle or share your music to willing parties, its up to you. the ARKCANARY is not readily available but it is now requesting for support to make this product a reality via Kickstarter.
pledging a minimum amount of $10 gets you an ARKCANARY which has a original MSRP of $13. if you are keen, head on down to ARK's page at Kickstarter to make your pledge. the ARKCANARY will comes in seven different hues for your choosing and is expected to be available sometime in March. strange that ARK decided to kick off a second CANARY even before the ARKCANARY I sees production.