Just as we read about the remake of John Carpenter's dystopia cult classic Escape from New York (or rather, a prequel, according to MovieWeb), we saw this: Bozena Riot vehicle from Bozena Security Systems. Rather ominous, don't you think? Anyways, just in case the future turns out to be all messed up, Bozena Security Systems' Riot vehicle will be ready to take on the violent protestors. Bozena Riot is essentially a compact wheel loader souped with armor and equipped with a 3-ton extending (horizontally and vertically) armored barrier which kind of makes it a bulldozer for shuffling humans into submission and also to protect the riot control officers as they suppress the angry mob with lethal or non-lethal weapons through the six available launch ports.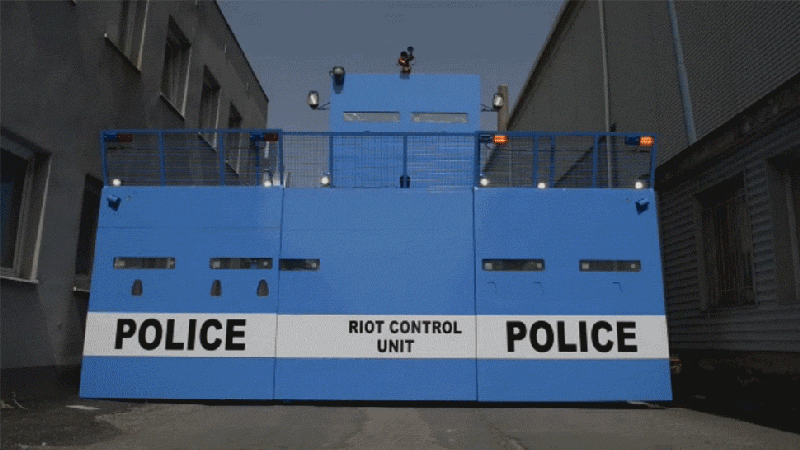 In addition, Riot is outfitted with high pressure tear gas guns for crowd control in case the situation turns really, really ugly. An array of cameras serve as the eyes of the operator so he or she'd not be bulldozing blindly. Finally, there is, of course, the requisite loudspeaker that will allow the officer-in-charge to scream at the crowd, ordering them to stand down or face the anti-riot beast in front of them. Not exactly the future that I have anticipated, at least not after Escape from New York has faded from my memories until of late. But looking at the inherent violent nature of human race, the need for this kind of monster machines is inevitable.
Or may it was the government who managed to trigger angry mobs which result in the need for this beast? I don't know. Anywho, skip ahead for the product demo video.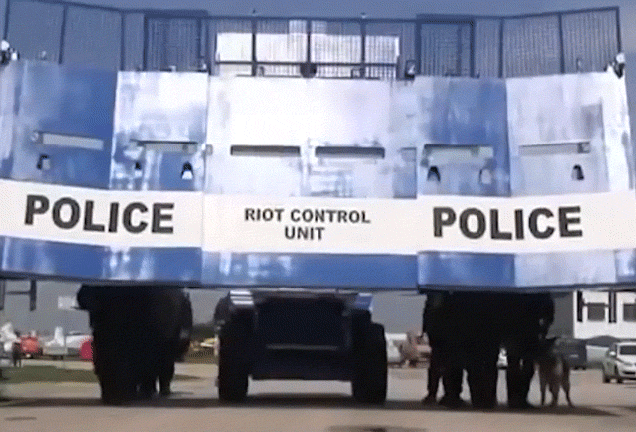 Image: Bozena Security Systems.
Animated GIFs: Gizmodo.
Bozena Security Systems via Gizmodo.