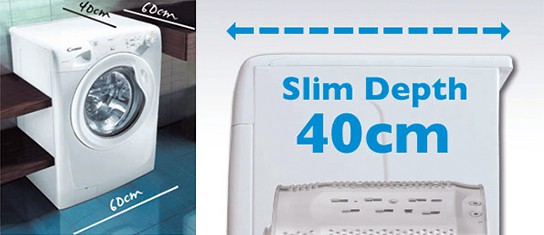 (photo source: candy-domestic.co.uk)
these days apartments/houses are getting smaller, especially in city areas. perhaps, this Candy Grand'O space saver washing machine, from the Italy, can help in conserving some of your precious estate in your service area. with just a depth of 40cm (that's less than 16 inches), it will saves you an average of 10cm of space which could make your service area a little bit roomier. even with it's slim depth, the Grand'O still manages a 6kg and 7Kg (depending on the model) capacity wash.
there's a side benefit for a slim depth washing machine, in terms of interior decoration perspective. some people design cabinets around the washing machine and to accommodate the washing machine, the cabinet usually ended with the same depth as the washing machine (averaging 50cm, usually more) i.e. making the already tiny space even smaller. well, you can always choose not to build the cabinets to the machine depth, but that would mean an awkward protruding washing machine that will sticks out like a sore thumb, not to mention the occasional accidental bumps into the protruding machine. now with the slim depth, you can build your cabinet to a slimmer depth – thus saving space overall. home improvement, anyone?
visit Candy UK website.