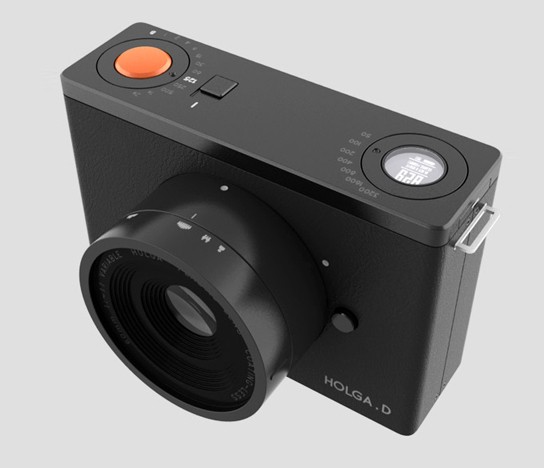 (image credit: Saikat Biswas) Holga . D | US$NA (concept) | www.saikatbiswas.com
lomography enthusiasts adore the anticipation associated with analog photography. however, its a double shot of anticipation for me: first you can't review what you have shot and second, the wait for the film to be developed in the studio. i like lomography, while i can put up with the inability to review what i have shot, i simply can't endure the wait for the development. industrial designer Saikat Biswas must have shared the same dilemma, judging from his concept Holga . D digital camera which attempts to "brings back the joy and delayed gratification associated with good analog photography."
[ad#Google Adsense-text-468×60]
like most digital camera, the captured moments will be stored on a SD card but that's where the similarity ends. everything is back to the 'root' of lo-fi photography. the Holga . D will spot the "last-generation" full frame lens in which the "last-generation" refers to the outdated sensor of that time. for example, if the current norm sensor is say, 24 megapixels, then the 12 megapixels would be considered as the "last generation" sensor. it will share similar features with its analog counterpart which includes removable plastic lens, color/BW mode selector, and aspect ratio selector. sticking true to the tradition of an analog Holga camera, the focus ring will spot icons representing the focus length instead of numbers.
there will be a few 21st century technology twist such as the power button to necessitate the switching on and off of the camera, an e-ink display showing information such as remaining frames and battery status, flushed ISO selector dial and as well as shutter speed selector dial. there is also an accessory port enabling user to connect with accessory such as external viewfinder (which it doesn't have one built-in), hot-shoe attachment and adjustable Mini-flash. one neat feature is the top panel can be released and reorientated to suit left-handed use.
besides not having a viewfinder, the Holga . D will be missing the digital display, hence user will still experience the delayed gratification until the captured images are downloaded to the computer. i'm totally sold. i hope the Holga . D will sees production eventually. in the meantime, check out some images of this gorgeous lo-fi camera below.
via Fast Co. Design