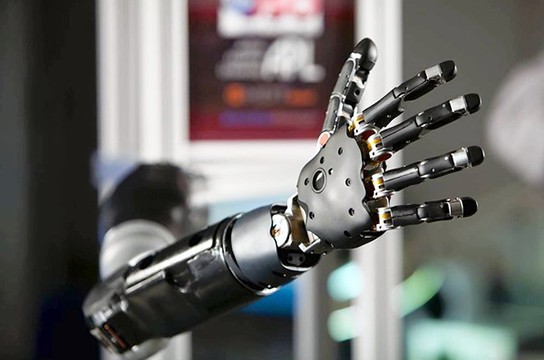 (image credit: John Hopkins)
the Defense Advanced Research Projects Agency's (DARPA) mind-controlled prosthetic arm could be available in the market in four or five years time. in line with the recently-announced priority review program for breakthrough medical devices in order to get innovative and lifesaving treatment to the market faster, the DARPA's mind-controlled will be first to be reviewed by the Food and Drug Administration (FDA).
[ad#Google Adsense-text-468×60]
the mind-controlled prosthetic arm is jointly developed by DARPA and John Hopkins University at a cost of over $100 million. a microchip implanted in the patient's brain records the neuron activity and translates the signals to activate the motor neurons built into the prosthetic arm. the silver and black arm is able to rotate, twist and bend 27 different ways thus restoring an almost complete dexterity to the user.
with the evaluation being fast-tracked, John Hopkins is ready to proceed with clinical trials within six months where five patients will be implanted with the microchips and monitored for a year. although, the use of microchips to control artificial limbs is not new, there are still some concern over the performance of the microchips over an extended period. however, if the trials go well, the arm could be available commercially in four or five years time.
check out the video of the prosthetic arm dexterity after the break.
via Fast Company