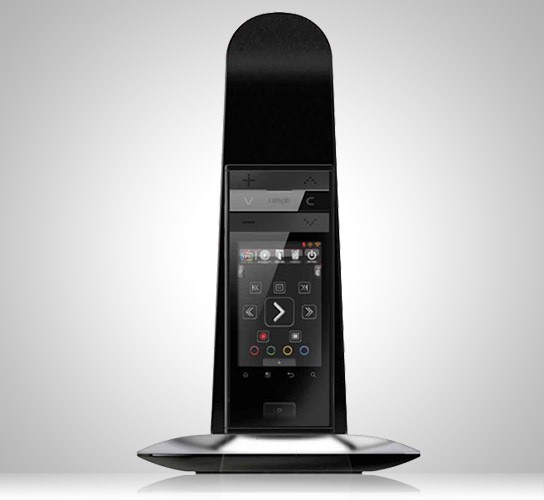 (credit: Conspin) Conspin ANDI-ONE Universal Remote | US$349.99 | www.conspin.com
Conspin may sounds a little too corny for a company name but this Korea-based company has just announced a sleek Android-powered universal remote control, dubbed ANDI-ONE. at the glance, the ANDI-ONE looks like yet another smartphone but it is not. it is a full fledge universal remote that is being supported by a database of 10,000 devices from more than 5,000 manufacturers and the list is still growing as we speaks.
[ad#Google Adsense-text-468×60]
powered by Android 2.1 Operating System, Conspin referred the ANDI-ONE as "the first of its kind (that) merges a tablet PC with an universal remote controller." the controller is capable of controlling up to 50 devices via RF, IR and WiFi. for some reasons, Bluetooth was not in the list. the ANDI-ONE features a generous 3.5-inch high resolution capacitive touchscreen for touch control of your devices and to "enjoy your Android applications". i am not quite sure what the latter means but presumably, you can download apps from the Android such as weather app, stock watch app et cetera into the remote control. though mainly touchscreen, volume, channel and on/off switch still remains as physical buttons. some other features include built-in three-axis accelerometer, built-in speaker and support for multiple audio and video codecs.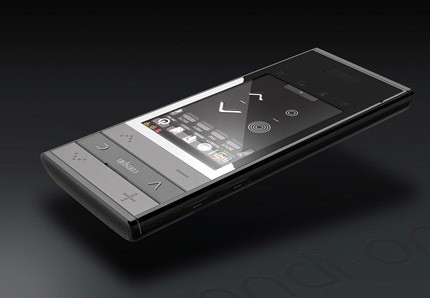 ANDI-ONE is powered by an ARM processor with 256 MB of DDR2 SDRAM. the control itself comes with a 1500 mA Lithium-ion battery that is said to be good for 20 hours usage. it has a built-in 2GB storage for your apps and stuff with micro SD card slot allowing for expansion up to 32GB. the supplied USB cable allows syncing and charging with a PC. charging can be done more elegantly by docking to the accompanied cradle. the cradle sports a set physical volume control and a pair of stereo speakers rated at 3 watts each. this means, user can watch video or listen to music while the remote is being cradled and the HDMI out port allows the content on the remote to be displayed on the big screen. Ethernet port is an option for this DC powered cradle. the cradle's 30-pin connector is iPhone and iPad compatible, hence doubling it as a iPhone/iPad dock station.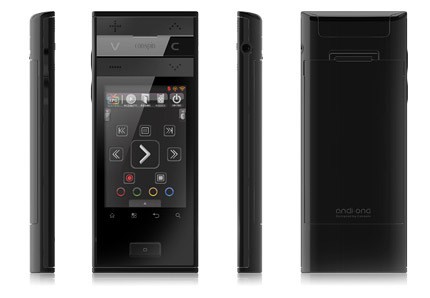 the Conspin ANDI-ONE Universal Remote is now available for $349.99 a pop and availability is through resellers. we do not know exactly where you can get it. however, you can contact Conspin directly to find out more. the thing about these known companies is the trouble finding their availability and to top it off, the name Conspin doesn't really inspire a lot of confidence, eh? well, that's just our thoughts.
Conspin via Geeky Gadgets