i recall those days where the game of PC was, the bigger the more awesome it is. well, that was then. these days we want it to be as unobtrusive as possible and yet not sacrificing performance and so we went the way of all-in-one, but with AIO you are bound to a monitor which you may not fit your needs. in another word, it may be space saving, the display shove into your face can be quite a turn off. enters the mini PC era, where it is poised to satisfy the need for performance in a small form factor that's very much smaller than a shoe box, and at the same, you get to choose the monitor. speaking of mini PC, CyberPowerPC Fang Mini is the latest to join the growing market of tiny computer and stands out as one heck of a looker, and unlike competing systems such as Intel NUC which is offered as a barebone system, it is a full-fledge system complete with what a PC should have on the inside.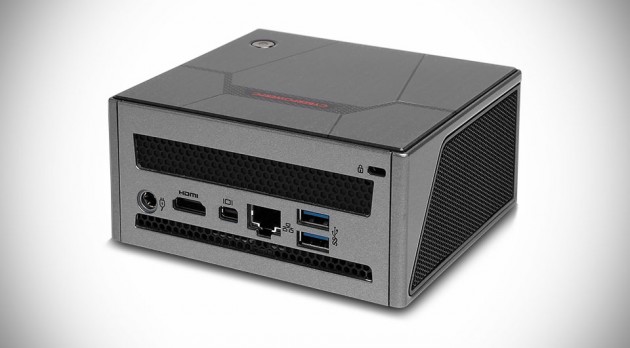 though so, it does not attempt to shove the set menu spec into you; it is customizable to your need and available in a choice of AMD (refer to as the Fang Mini R9) or Intel (the Mini Pro) as the starting base. prices start at $799 for the Mini R9 which is equipped with an AMD A8-5557M quad-core chip, 8GB of system RAM, Radeon R9 GPU with 2GB VRAM, 1TB HDD and runs off Windows 8.1 and bundled with Office 365. for $889 and up, you get the Mini Pro, which is an Intel flavored rig, sporting the fourth generation Intel Core i7-4770R quad-core processor, 8GB of RAM, Intel Iris Pro graphics 5200, one terabyte SATA300 HDD and it also gets Windows 8.1, along with Office 365.
other common features include built-in WiFi supporting up to wireless ac, Bluetooth 4.0, HDMI output, miniDisplayPort, Ethernet port, four numbers of USB 3.0 ports and 3.5mm headphone jack with S/PDIF. configurable options include different make of RAM upgradeable to 16GB, hybrid drive and/or SSD (or even lower capacity drive) and more. you can order yours as we speak via CyberPowerPC website. you can take a closer look in the product video below.