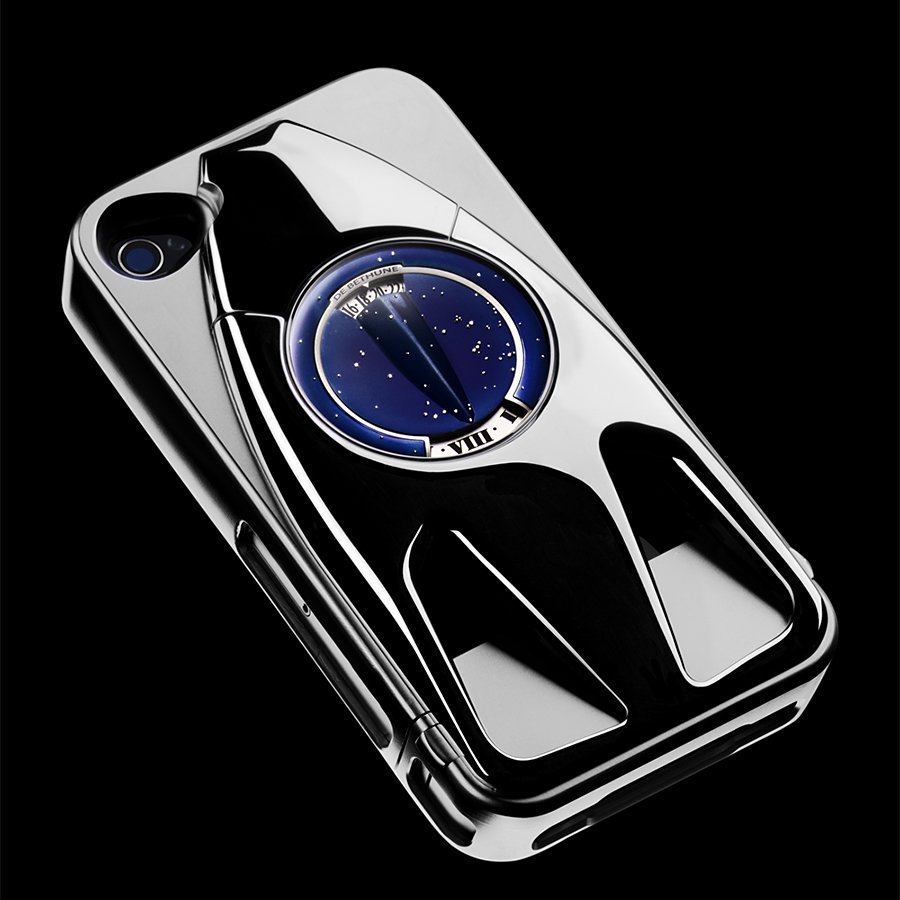 (image: De Bethune) De Bethune Dream Watch IV | US$tba | www.debethune.com
that's what i thought i first caught glimpse of the Dream Watch IV from luxury time piece maker, De Bethune. it has a total retro-future look to it with its sculpted, specular-polished and beadblasted titanium. nice to look at but certainly a fingerprint magnet. this shimmering case features an unique time piece with a hand-polished blued titanium, and sparkling light of white gold and diamond stars that reminiscent of a starry night sky. despite its potential as a fingerprint magnet, we are still awe by the Dream Watch IV, and marvel by the combination of a smartphone and a mechanical pocket watch. yes, it is a mechanical watch, though no hint on what movement this might be running on. what's make this beauty even more attractive is only 12 such fine examples will be produced, though no word on when it will be officially hit the stores. if the shiny nature of the Dream Watch IV proves a little too glaring to you, you still can opt for the classy DB-M as the luxe case of choice for your iPhone 4S too. a brief PR information follows after the break.
[ad#Google Adsense-text-468×60] [toggle title_open="Hide Press Release" title_closed="Show Press Release" hide="yes" border="yes" style="default" excerpt_length="0″ read_more_text="Read More" read_less_text="Read Less" include_excerpt_html="no"]DE BETHUNE
Press release, November 2011
Dream Watch IV: The 4S shield in tribute to Steve Jobs
After the noteworthy launch of the DBM, an offbeat concept born from the original association between a smartphone and a mechanical pocket watch, De Bethune returns with its High Tech equivalent, the Dream Watch IV.
Equipped with avant-garde amour in sculpted, specular-polished and beadblasted titanium, the Dream Watch IV simultaneously provides mechanical protection for the phone and electromagnetic protection for the user by reducing the physiological impact or its potentially damaging waves.
This timepiece with its spaceship-inspired design features shimmering light effects playing across the complex dial architecture and the carefully chosen and fashioned materials. The dark gleam of the hand-polished blued titanium, the sparkling light of the white gold and diamond stars… The depth of this star-lit sky is revealed by the alternating convex other curves and concave centre curves, featuring a "spine" that draws the gaze naturally towards the silvered hour and minute discs.
With this exclusive creation issued in a 12-piece limited edition, David Zanetta and Denis Flageollet are once again breaking free of contemporary codes and customs to assert themselves as trendsetter associating the classic culture of fine watchmaking with the remarkable technology of third millennium smartphones.
Dream Watch IV represents the mechanical watch designed for 21st century wear and which raises this accessory to the rank of an authentic work of art. A time sculpture dedicated to the visionary Steve Jobs and paying eloquent tribute to his groundbreaking genius.
Available in a special limited edition, the Dream Watch IV by De Bethune will unveil its other functions at the De Bethune exhibition to be held in the Grand Lac salon of the Hotel des Bergues on the Quai des Bergues in Geneva from January 15th to 20th 2012.[/toggle]
SOURCE: De Bethune
via LuxuryLaunches